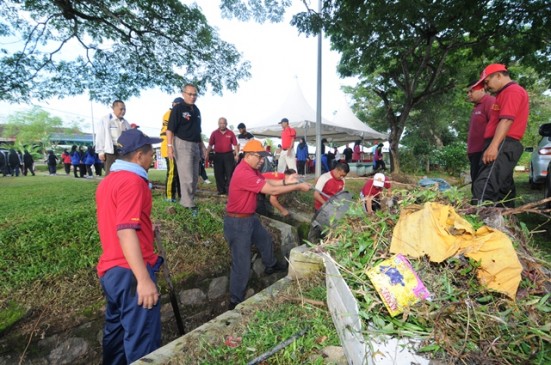 Skudai, 5 January 2013 –  UTM conducted a Gotong Royong Perdana 2013 on Saturday 5th January in Jalan Penyiaran 11, Taman Universiti.  The social responsibility programme is in collaboration with MPJBT Zon Taman Universiti and other agencies such as Perbadanan Pengurusan Sisa Pepejal dan Pembersihan Awam Negeri Johor (PPSPPA), RELA and Jabatan Kesihatan Negeri Johor. The initiative was to create awareness and love for the environment as well as giving the opportunity for UTM students and staff to socially get together to do social activities for our neighborhood community. The Gotong Royong was initiated by the UTM Corporate Office, Community Engagement Unit and its first community engagement event of the year.  A total of 300 students and staff members were involved to do bits for the community. The programme was launched by YB Datuk Haji Abd Aziz Sapian  (ADUN Nusajaya) accompanied by Y. Bhg. Prof. Datuk Ir. Dr. Zaini Bin Ujang, UTM Vice Chancellor and top management team.
The event was held in conjunction with the giving away of 1800 movable bins sponsored by Southern Waste Management Sdn. Bhd. There were also RELA exhibitions, colouring contests, recycling exhibitions, and health checks. The UTM Pusat Kesihatan also joined in providing free health checks for the community and advice to a healthier lifestyle. CGCC with students of PALAPES and SUKSIS also joined effort to the cleanup. It was indeed a great opening to the 2013 New Year for promoting spirit of volunteerism among UTM students and staff. Most of the students and staff joined hands in effort to be responsible citizens and to preserve nature for future generations.
Many mentioned such environmental-based programmes should be encouraged and exemplified by the public to also preserve nature and also encourage volunteerism. It is hoped that UTM contributions can be followed by others on the importance of preserving and maintaining the cleanliness of our surroundings, especially the communities surrounding our Tropical campus. In future, more similar programmes is hoped to bring together the cooperation of other interested parties for further promote the cause.  Maintaining the cleanliness of our neighborhood is important and that the programme would continue as a permanent feature in UTM to increase the awareness of the public on UTM social responsibility.
Click here to view photos