10 Dec 2012 – LUND, SWEDEN. UTM Vice-Chancellor Prof Datuk Zaini Ujang received a prestigious fellowship of the Royal Physiographic Society in Lund, Sweden (www.fysiografen.se) for his contribution to technology education, research and innovation in environmental engineering.
Zaini became the first fellow of the Royal Society from South East Asia, and among the first from Asia after a doctor from China and two prominent scientists from Japan.
Zaini, a professional and chartered chemical-environmental engineer has been UTM Vice-Chancellor since October 2008, and the first recipient of the prestigious Merdeka Award for academic achievement in 2009.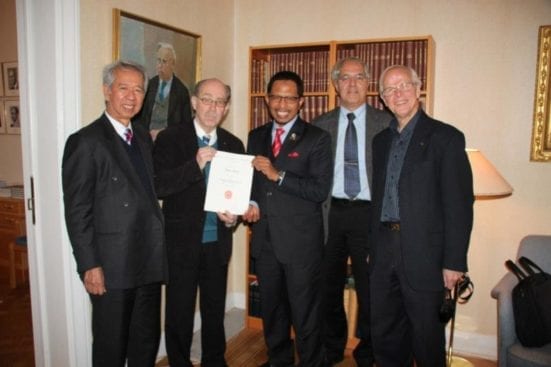 He has also been appointed as Chairman of Environmental Quality Council of Malaysia since 2009, Fellow of the Institute of Chemical Engineers (UK), Fellow of Academy of Sciences Malaysia, Visiting Professor to Massachusetts Institute of Technology (MIT) and Imperial College, London.
The Royal Society was founded on Dec 2, 1772 by a well known natural historian, Anders Jahan Retzius, Nils Hesslen a theologian who later became Vice-Chancellor of Lund University and Andreas Barfoth MD. In 1778, the Society was sanctioned by the Royal Command by King Gustav III and has since then had the epithet "Royal".
His Majesty the King of Sweden is the Patron of the Society. The aim of the Royal Society is to provide researchers and scholars from different disciplines the opportunity to meet and present their views and research findings, as well as supporting research in pertinent areas of significance. At present the membership of the Royal Society has been limited to around 450 Swedish scholars and 100 international scholars (mainly from Europe and USA). Buy Windows 7 Ultimate
Cheap Windows 7 Ultimate
Cheap Windows 7 Ultimate
Discount
Adobe Creative Suite 6 Master Collection
Sale Adobe Creative Suite 6 Master Collection
Order Adobe Creative Suite 6 Master Collection
Sale Microsoft Office 2010 Professional Plus
Sale Microsoft Office 2010 Professional Plus
Microsoft Office 2010 Professional Plus