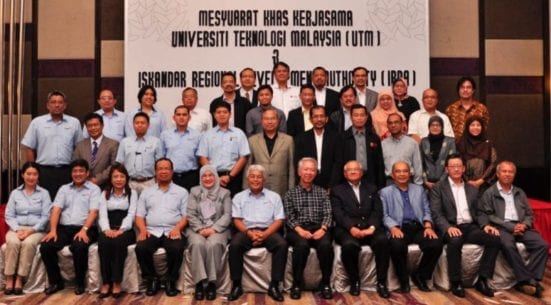 Johor Bahru, 26 November – Universiti Teknologi Malaysia (UTM) and Iskandar Malaysia Development Authority (IRDA) has agreed to work closer together through potential collaborative opportunities in research, expert sharing, consultation services, community engagement and human capital development in strengthening each other's stronghold in the Southern economic region.
A total of 44 top management representatives of both UTM and IRDA, inclusive of 6 members of the UTM Board of Directors gathered in Port Dickson to exchange notes on their current status of development, future directions, and potential areas of collaboration between the two organisations.
IRDA Chief, Datuk Ismail Ibrahim highlighted that despite coming into the seventh year of establishment, there are certain perceptions that still exist around Iskandar Malaysia (IM), in particular its development focus and governance.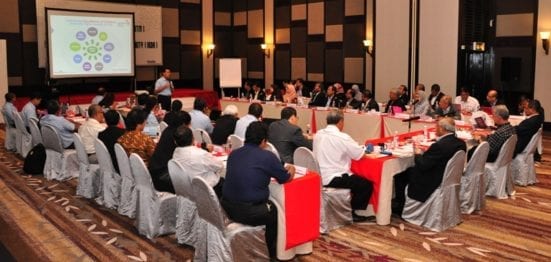 As the appointed authority to facilitate the promotion, planning and infrastructure development of the region, IRDA envisions IM to be the regional economic zone with international standing, striking a balance between economic and social development as well as environmental considerations.
To date, IRDA has been successful in bringing more than 37 percent foreign and 63 percent domestic investment within a 2,217 sq km area, securing more than RM 99.8 billion worth of investment in IM's second phase of development.
IRDA has also been successful in establishing niche investments within the region, such as the Johor Premium Outlet (JPO) and Legoland Malaysia. The real challenge of the region at present is to build a well-connected society, good service delivery and optimal physical environment to attract domestic and foreign investments, as well as producing a talent pool of highly skilled and specialised individuals within the region to feed into existing and emerging industries within the region.
UTM Vice Chancellor, Prof. Datuk Ir. Dr. Zaini Ujang, in response, explored potential contributions, which UTM could offer as one of the most established public higher education institutions within the IM region. Offering a "knowledge partner" partnership framework to IRDA, he highlighted UTM's strategic offering as a platform to assemble expertise required in accelerating IM's development.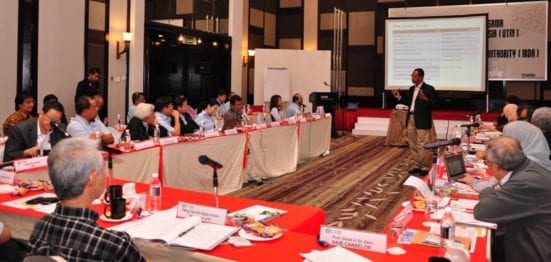 UTM is also at a position to channel undergraduates into IRDA's project development teams as part of their minor programme requirements to address technical and community- based needs in the region. Some other possibilities include setting up the Iskandar Professorial Chair on Sustainable Cities by leveraging UTM's current collaboration with Massachusetts Institute of Technology (MIT) on the subject, as well as co-sharing visiting professors and experts who come to the university with IRDA in building their research capacity.
As the Chair of the meeting between UTM and IRDA, the Chairman of UTM Board of Directors, Tan Sri Halim Ali remarked that the outcome of the meeting has been excellent despite the limited amount of time available for a detailed discussion. He hopes that the outcome forms the basis of collaboration, and both organisations would arrange frequent engagements on a quarterly basis and work on smoothing structural and operational issues related to the collaboration.
Reminding UTM that it is not the only higher education institution with whom IRDA would collaborate with, Tan Sri Halim cautioned all present on the upcoming challenges and the immense potential to be explored for both IRDA and the university.
UTM's strategic location within the IM region and the accumulation of expertise in science, engineering and technology should be a feeder for IRDA's intellectual capacity development.