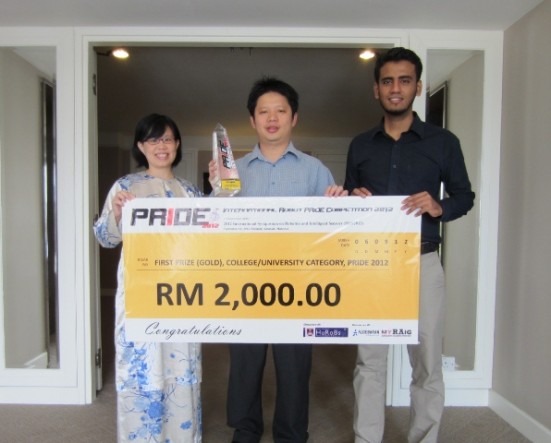 JOHOR BAHRU: Universiti Teknologi Malaysia (UTM) team was adjudged the First Prize (Gold) winner at the 2012 International Robot PRIDE competition in Kuching, Sarawak, on 6th. September 2012.
They brought home RM2000, Robot NAO software, trophy and certificate.
The competition  was organized alongside the International Robot and Intelligent Sensors Symposium IRIS2012 from 4-6 September 2012 and co-organised by Universiti Teknologi Mara (UiTM), MySET, MyRAIG and Nagoya University.
The second prize winner was 'Hand-Instruction Controlled Robot Car Using Kinect' from USM while the third prize went to Swinburne University for their 'Self-Balancing Tray'.
The objective of this competition is to explore and exhibit innovative ideas and design within the scope of Robotics, Sensors, Automation and Intelligent Systems.
Team leader, Dr Yeong Che Fai, said the competition was open to participants from all countries with three open categories: School, University/Colleges and Industrial/Individual. Others team member were Dr Eileen Su Lee Ming, Hisyam Abdul Rahman, Tan Ping Hua and Ricky Yap Wee Yang.
"Winning entries were determined based on three rounds of judging, with different set of panels for each round.
"The first round is a project proposal selection by the organizers; the second round is an exhibition with interview while the final round is a presentation to international panels," he said.
UTM team submitted a project entitled 'One degree-of-freedom Haptic Device to Train Stroke Patient's Forearm Pronation/Supination' under the University/College category few months earlier for review and was among the shortlisted 16 proposals in our category to advance to second round.
Besides each team from Japan and India, the other shortlisted teams were from Malaysian institutes of higher learning.
Dr Yeong, who presented the product on behalf of the team said, during the second round exhibition judging, the university teams were evaluated by three judges – two international judges from Iran and a Malaysian industrial representative.
"The judges selected only six teams from the exhibition to advance to the final round. The finalist teams were from UTM, USM, Swinburne University, UM and UiTM with two teams.
"The final round presentation took place the next day with international judges from London, Japan and India," he cited.