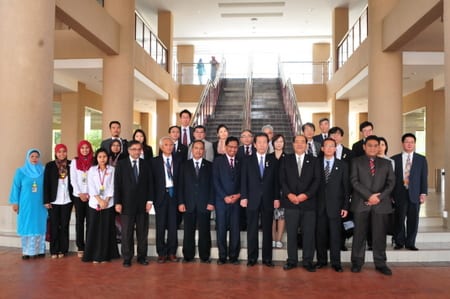 KUALA LUMPUR, 7 July – In conjunction with the 30th anniversary of the Look East Policy (LEP), the Minister of Education, Culture, Sports, Science and Technology (MEXT) of Japan, Minister Hirofumi Hirano paid a visit to Malaysia on the 6 and 7 July 2012.
In conjunction with that, he visited the Malaysia – Japan International Institute of Technology (MJIIT) in Universiti Teknologi Malaysia Kuala Lumpur, which was officially launched on 1 June 2012 by Malaysia Prime Minister YAB Datuk Seri Mohd Najib Tun Abdul Razak.
To show the Japanese government's continuous support of MJIIT, Minister Hirano had a look at MJIIT facilities at the institute and held dialogues on the future development of MJIIT with the Director of MJIIT, as well as the Japanese professors who are currently lecturing in MJIIT.
The successful launch of MJIIT is the result of our long standing relations and professional engagements with our Japanese counterparts, including the Government of Japan, the Japan International Cooperation Agency, and the Japanese University Consortium. The establishment of MJIIT marks the beginning of more meaningful collaborations between the two nations that will bring MJIIT to greater heights.
UTM is presently embarking on a progressive effort towards transforming and positioning itself as one of the key players in the global arena in terms of higher education, research and innovation.
MJIIT is strategically located in UTM Kuala Lumpur, at the heart of the capital's economic and socio-political hub. It is meant to serve as a platform for more collaborative endeavours towards impactful synergy between the UTM community, their Japanese counterpart as well as the international scientific community as a whole. As such, its establishment is most timely and appropriate.
Furthermore, through MJIIT, both academics and students have the advantage of engaging in strategic alliances for enhanced social and professional relations towards a vibrant learning experience and dynamic intellectual ecosystem.
Most significantly, Japanese-based industrial-linkages would give opportunities for more industrial engagement which would allow both academics and students to use their experience as part of their studies and research in effective ways. Students can also be jointly supervised through joint research programmes.
In terms of the current enrollment of students at MJIIT, there are currently 65 students for undergraduate programmes which took their first batch of students in September 2011 in Electronic Systems Engineering and Mechanical Precision Engineering.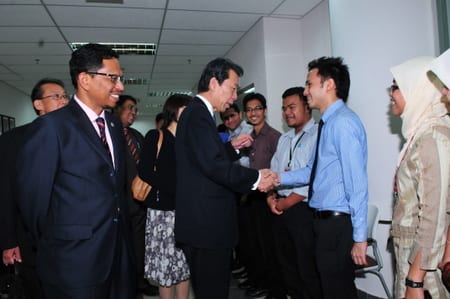 At the postgraduate level, MJIIT is offering a range of MPhil and doctoral opportunities to 52 students currently. Under the joint supervision programme, excellent students are allowed to be attached to one of the partner universities in Japan between 3 months to a year of their study which will further expose them to the Japanese working culture.
MJIIT also envisages to be an international base for education and research of Japanese engineering. Within the next 7 years, MJIIT is expected to have 2,700 students, with 40% of the students from outside of Malaysia, and 280 staff with 25% consisting of international staff.
Furthermore, MJIIT aims at promoting mobility of staff and students through the development of collaborative programmes or double degree programmes between MJIIT and the Japanese partner universities. This is also referred to as the "ASEAN-Nippon Program" which is in the blueprint of MJIIT. It is expected that this collaborative programmes will lead MJIIT further ahead to promote Japanese Engineering Education and Research in the ASEAN region.
The continuous support and cooperation for MJIIT to produce competent graduates who meet the needs of the society will be further strengthened with Minister Hirano's visit.