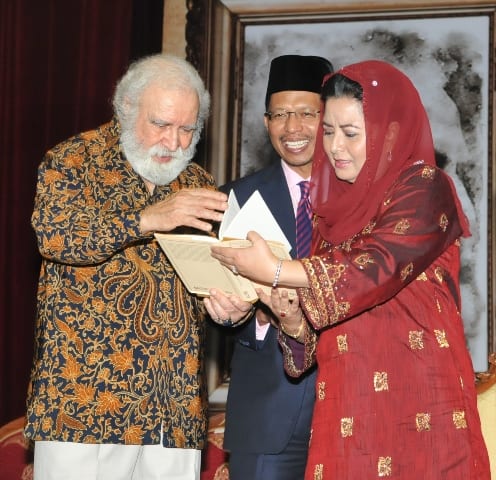 KUALA LUMPUR, 21st. June 2012: Universiti Teknologi Malaysia (UTM) is pleased to announce the appointment of YM Tan Sri Prof. Dr. Syed Muhammad Naquib al-Attas as Distinguished Visiting Professor beginning this month for a period of one year.
 Tan Sri Prof. al-Attas will be attached to the Centre for Advanced Studies on Islam, Science and Civilization (CASIS), a newly established center of excellence at post graduate level, headed by Prof. Dr. Wan Mohd Nor Wan Daud, based at UTM Kuala Lumpur, Jalan Semarak, Kuala Lumpur.
Tan Sri Prof. al-Attas, a distinguished and foremost thinker, philosopher and educator in the Muslim World today, is prominent for his incisive and penetrating thoughts that provide insights and solutions into the vexing issues besetting the Muslims today, particularly in relation to religion, thought, knowledge, history, language, and culture.
Among others, he is known for his original idea of the concept of education in Islam and the islamization of contemporary knowledge which led to the establishment of Islamic universities at various Muslim countries.
He has established two institutes that aimed at reviving the intellectual acuity of Muslims which now have a life of their own: Institut Bahasa Kesusasteraan dan Kebudayaan Melayu (IBKKM) at UKM, and the International Institute of Islamic Thought and Civilization (ISTAC) at UIAM.
Tan Sri al-Attas is a man of prodigious mind.  His contemporaries regard him a genius, a reviver of islamic thought along the great mind of al-Ghazali, the 12th century intellectual giant of Islam, and his intellectual output bears testimony to this.
His beautifully-designed architectured building of the International Institute of Islamic Thought and Civilization (ISTAC), which embodies the very essence of Malay, Western and Islamic aspects of building and built environment bears testimony to his creative ability to wield the best from civilizations to produce a new vibrant synthesis.
His depth of knowledge is reflected in the recently named Library of Syed Muhammad Naquib al-Attas at ISTAC, which contains authoritative works surpassing any collections of its kind in  South East Asia.
A learned, enlightened scholar with acute mind and penetrating insights will be of immense benefit to the students and the community of UTM at large.