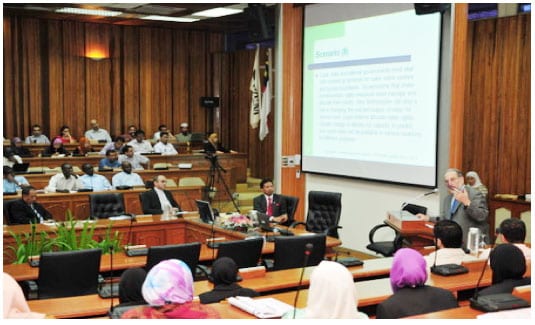 KUALA LUMPUR.  May 21st, 2012 :  As part of its effort to create a dynamic intellectual ecosystem, Universiti Teknologi Malaysia (UTM) encourages an array of academic activities including its UTM Premier Lecture Series, starting in 2011, which features accomplished, thought provoking and innovative leaders from a variety of disciplines from around the world who would share their expertise, insights and perspectives on pertinent issues of relevance that would impact society and make a difference.
Speakers ranging from top scientists to economists, from top-notch academics to university presidents such as Sir Keith O'nion (Rector of Imperial College London), Alice Gast (President of Lehigh University, and  former MIT vice-president), Tony Sinskey (MIT), Richard Larson (MIT), Dick Vietor (Harvard University), Eric Mazur (Harvard University) and Ricardo Botas (Imperial College London) have been part of those participating in the UTM Premier Lecture.
This month, UTM is privileged to have a distinguished speaker, Professor Lawrence E. Susskind, Ford Professor from Massachusetts Institute of Technology (MIT), U.S.A for its next UTM Premier Lecture Series on 21 May, 2012, in UTM Kuala Lumpur Campus (at 2 pm, Dewan Jumaah) who will share his experiences and insights on a topic which is most enriching and applicable to the current scenario in Malaysia entitled  "New Tools for Democratic Decision Making".
This is part of UTM's initiative of pursuing a comprehensive institutional transformation that promotes mindset change and better working functions, as well as improving its delivery systems to transform the university's current operating models to one that is innovative, entrepreneurial and global. UTM's goal is towards sustainability for the academia, based on high impact contribution and high-value creation.
Professor Susskind's talk is very timely as it would enlighten the audience with yet another dimension of professionalism in the context of decision making and managing conflicts in today's challenging environment. With his vast experience in mediating more than 50 disputes, including land use conflicts, facility siting controversies, public policy disagreements, and confrontations over issues of water, for instance, Professor Susskind is the person with the right capacity to guide us on various issues of concern that would impact us in many ways, especially in relation to conflict management and conflict resolution.
In the context of development projects in Malaysia and other developing countries, the issue related to the environment is becoming more challenging, with the public becoming more vocal in voicing their views and opinions. As such the talk by Prof. Susskind could not have come at a better time as we struggle with complex issues related to our environment and society.
For instance, the controversial LYNAS Rare Earth Project could be resolved if social aspects as well as involvement of stakeholders are taken into consideration right from the initial stage of the project.
Other incidents include the controversial solid waste incinerator project in Broga, the construction of the Bakun Dam project in Sarawak and the raw water flow project from Pahang to Selangor. With increased public awareness and the dominant role of the social media, conflicts of this nature will increase due to anxiety or misunderstanding especially with regard to safety and environmental issues.
It cannot be denied that among the factors that led to the conflicts mentioned earlier is lack of emphasis on the involvement of stakeholders especially the general public in decision-making.
Among the challenges is how to ensure that the government, the public, multinational companies and the scientific community would understand and accept decisions made. It is worth noting that most of the projects involved have sound principles of science with sophisticated technology applied. However, in the current situation where the public can gain access to a wealth of information, resolving the issue based on technical aspects alone would not suffice, without taking into consideration public acceptance on the issue. In fact, the perception of the public at large sometimes overrides the real issue.
The issue is, can the conflict in question be avoided?  Can the conventional approach, i.e. Decide-Announce-Defend (DAD) in making decisions and in project implementation be harmonised? In general, the approach to DAD places a lot emphasis on technical aspects without giving attention to issues that would affect the public. In the end, the project developer or government will adopt a defensive attitude in responding to critique after critique.  At the same time, the increasingly complex socio-ecological system makes it difficult for us to understand and predict the future in a confident way.
With issues becoming more complex and unpredictable, the process of decision-making should be handled with care and in a democratic way, taking into consideration the sensitivity and welfare of the public, especially related to public safety and the environment. The premier lecture by Prof Susskind will highlight on the need to have the involvement of the public, especially in resolving conflicts related to science and technology policy.
The alternative to the approach Decide-Announce-Defend (DAD) involves three important processes, namely 1) collaborative, 2) adaptive, and 3) management or CAM. Collaborative means active involvement and transparency of all stakeholders or those affected by a particular development project. Adaptive is necessary when there is scepticism or difficulty arising from a particular project. Implementation in stages is better so that the parties responsible will have an in-depth understanding and will make improvements continuously. The management aspect needs  to take the collaborative and adaptive approach. This means that improvement of the management system should be done in a collective and transparent way, with concerted effort of all parties.
The DAD approach in decision making is also important in managing the main resources such as water, land, and clean air. In the short term, we need the DAD approach to resolve issues of raw water flow across borders, for example, and management of catchment in a comprehensive way.
To ensure the success of a project, the decisions agreed need to be sealed in the form of agreement. Normally, agreement is achieved based on "zero sum terms". Nevertheless, the community can achieve more benefit through "value creating agreement".
Although the CAM approach can be an alternative to the DAD approach, it must be carefully looked into in terms of suitability in relation to the problems arising and local context. There needs to be involvement of various parties including the university, NGO and the government deliberating and discussing these issues before decisions are met.
The UTM Premier Lecture Series is open to the public, free of charge.