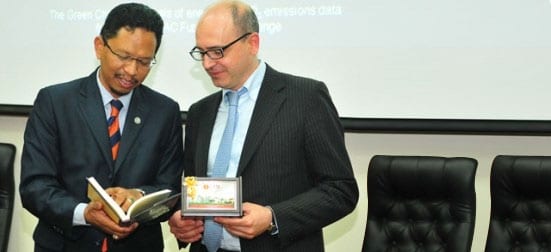 KUALA LUMPUR, 6th April: A Professor from Imperial College London Dr Ricardo Martinez-Botas was delivering a talk entitled "Low Carbon Transport Technologies Toward 2050: Checks and Balances" at UTM Premier Lecture Series  at Universiti Teknologi Malaysia (UTM), Kuala Lumpur.
Ricardo is the theme leader for Hybrid and Electric Vehicles under the Energy Futures Lab at Imperial College London said, low carbon vehicle technologies are currently under examination not only by the vehicle developers but also by the legislators and the public.
"This drive for low carbon comes from the urgent need to ensure a stabilisation of the global greenhouse related temperature rise and achieving a low carbon transport goes hand in hand with an increase in our security of energy supply.
"The correlation between development and vehicle growth is clear for all to see, this trend leads to a further drive to ensure that future vehicle technologies contain low energy/low carbon solutions," he said.
Ricardo who is a visiting professor at UTM and is a member of the Proton Technical Advisory Council cited, the continuous decarbonisation of the vehicle technology is evident, the decrease in fuel consumption can be quantified and it is an achievement of engineers working at their best for society.
"The general trend of vehicle fuel economy improvement is of the order 1.6% year on year over the past ten years, this is no small achievement and yet it is not sufficient to see us through to the need for a low carbon economy.
"Highly downsized engines can lead to much greater improvements and they could signify a benefit of fuel economy in a single step in the order of 25%, this is a big step along the right direction and yet we seek more, he explained.
He also mentioned the development of electric vehicles is a reality today, and yet their uptake has been disappointing and the introduction of electric vehicles is predicated on three main elements: charging stations, range and future expected vehicle value. All of these elements are highly dependent on the quality of the battery.
"There is still some way to go to see this component become: low cost, compact and high energy dense.
"Electric mobility is predicated on the basis of a de-carbonisation of the electricity supply, without it there is little point to invest heavily on electric vehicles; but with it once can truly achieve a low carbon transport system," he added.
Ricardo said, it is urgent to decarbonise liquid fuels, this can be done in a variety of elegant manners that do not compromise the food chain or water resources. Research and innovation is essential to see this happen.
"The final item to mention is the need to arrive at intelligent, customer-centered, cooperative and financially acceptable mobility options.
"It is through mobility that one can achieve the greatest reduction of CO2 in transportation; this space although tested in some areas remains largely speaking unexplored," he said.
Ricardo is currently leads three mayor projects on highly downsized engines for low carbon transportation with major vehicle developers and with wide experience of both experimentation and numerical methods applied to vehicle technology and turbo-machines.