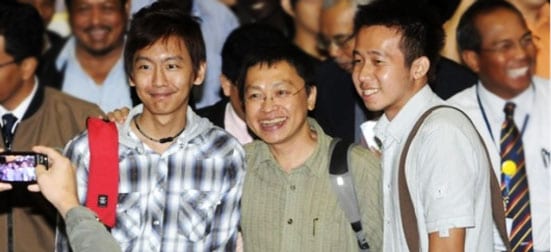 JOHOR BAHRU, 13th March: Chief Executive Officer of JobStreet.Com, Chang Mun Kee @ Mark Chang has been invited to share his experience with more than 400 Universiti Teknologi Malaysia's (UTM) students at Dewan Sultan Iskandar, today.
Chang obtained his Bachelor of Science in Mechanical Engineering from the University of Texas, Austin, USA in 1988 and Master of Science in Mechanical Engineering from the Massachusetts Institute of Technology, USA in 1990.
Prior to founding MOL Online Sdn Bhd in 1995 and subsequently JobStreet.com Sdn. Bhd. in 1997, he was with Kendall International, a US healthcare company for five years as a process engineer in 1990 before being promoted as manufacturing manager in 1992 and regional director of sales and marketing for Malaysia in 1994.
He left Kendall International in 1996 to establish JobStreet.com Sdn. Bhd. which expanded regionally under his direction. He currently sits on the Board of Innity Corporation Berhad and Vitrox Corporation Berhad.
Chang, who is the Executive Director of JobStreet and founder of the JobStreet Group established his company in 1995 with cost of RM17,000. He listed the company in 2002 and currently worth nearly RM1 billion in market value.
He said, JobStreet.Com is the largest job website in South East Asia and is the number one in Singapore, Malaysia, Thailand, Taiwan, Japan, Philippines and Indonesia.
"Right now over 10 million people in this region are seeking job and JobStreet.Com website has become number one in Malaysia and this region for job seekers.
"Every year about 100 thousand companies registered over 100 million jobs with JobStreem.Com  and more than two million job seekers are in Malaysia, where 100 thousands of them are graduates," he said.
Chang who is also member of the International Advisory Board, UTM International Business School said, sales and marketing are the most popular job advertised in the JobStreet.Com followed by information technology, construction and manufacturing.
He said, UTM Vice Chancellor Professor Dato' Ir. Dr. Zaini Ujang vision on UTM to become an Entrepreneurial Research University looked great and timely.
Meanwhile Dr. Zaini said, the talk is organised to expose students to real-life experiences of successful entrepreneurs which would be an inspiration to the students.
"It is also hoped that Chang's presence in UTM will initiate discussions, especially among the students and graduates-to-be on employability and their readiness in joining the global labour market after graduation," he said.