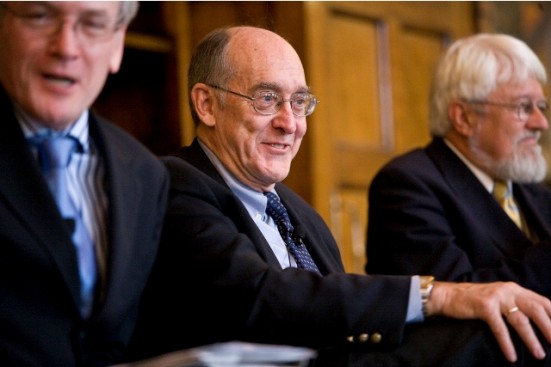 JOHOR BAHRU, 2nd. March: – Professor Richard Vietor from Harvard Business School (HBS) was appointed as Universiti Teknologi Malaysia (UTM) distinguished Visiting Professor, starting March 2012.
UTM Vice Chancellor Professor Datuk Dr Zaini Ujang announced the appointment and said Professor Vietor is a renowned figure in the field of international political economy and government's role in global competition.
Professor Richard Vietor is the Paul Whiton Cherington Professor of Business Administration at HBS and also Senior Associate Dean for the Asian Initiative.
He has written in numerous journals, books and case studies related to business and government policy and environmental management, he is also a consultant to several international corporations and countries like Malaysia.
While at UTM, Professor Vietor will sit on the international panel of UTM International Business School (IBS) and conduct lectures for staffs and students on the economic crisis faced by Greece and current economic situation of China.
He will also meet UTM top management to discuss the strategies to make UTM more competitive at international level.
Professor Vietor will give a talk to HBS Alumni Club at Kuala Lumpur Convention Centre (KLCC) on March 4, 2012, at 7.30 pm.
He will deliver a public lecture on "How Countries Compete" during the UTM Business Premier Lecture Series scheduled on March 5, at 2.30 pm. This lecture is open to public and will be held at UTM International Campus, Jalan Semarak, Kuala Lumpur.
UTM Premier Lecture Series is a platform to cultivate concepts and incubate ideas on issues that conceal knowledge in a stimulating interactive environment.
His knowledge and experience in HBS will be of enormous value to UTM IBS students, practitioners, industry experts, academics and government agencies to explore and identify the current business and economic challenges in the competitive global environment.
For more information on UTM Premier Lecture Series, kindly contact Sufiena Amil or Siti Rahmah at +603-2694 8969 (GL) or +603-2695 3322 or email at sufiena.amil@ibs.utm.my or sitirahmah@ibs.utm.my. You can also visit our website at www.ibs.utm.my or like us in Facebook at www.facebook.com/ibs.utm