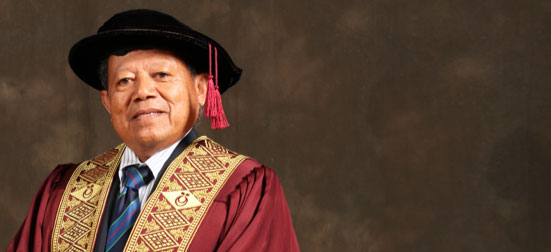 KUALA LUMPUR, 11th March: – UTM's Pro-Chancellor Tan Sri Dr Salleh Mohd Nor received the Tun Razak National Award by the Tun Razak Foundation for his outstanding contribution in various fields.
A member of the Tun Razak Foundation's Board of  Trustees Tan Sri Abdul Samad Egoh said, Tan Sri Salleh not only excels in academic but also made a name in research and development field as well as active in non-government organisation (NGOs).
"Tan Sri Salleh had always supported the aspiration of the late Tun Razak, particularly in the development of the nation," he said at the award giving ceremony at Tun Razak Memorial.
The award was aimed to honour individuals and organisations which have given outstanding contributions to the development of the nation in line with the establishment of Tun Razak Faundation.
The awards were categorized into three areas namely International, National and Organisation Award.
Each recipient received a gold plated medal, certificate of appreciation and a sum of cash which is determined by the Board of Trustees.
Heartiest congratulations to our Pro-Chancellor, Tan Sri Dr Salleh Mohd Nor on being conferred the Tun Razak National Award.
This is an inspiration to the UTM community.