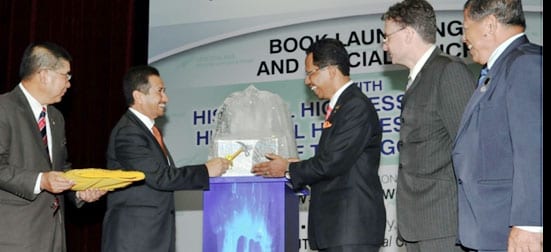 KUALA LUMPUR, 14 February : Universiti Teknologi Malaysia (UTM) academic engagement in conjunction with the New Zealand Week supports the concept of "New Academia" UTM is advocating.
UTM Vice Chancellor Professor Dato' Ir. Dr. Zaini Ujang said, this concept promotes new dimensions in academic and research engagements that encourage integration and synergy with new partners beyond the academic fraternity.
"The new academia is thus part of an integrated model of knowledge advancement based on smart partnership, synergistic alliance, meaningful engagements, value-driven approaches and impactful strategies beyond the conventional paradigms of the academia.
"This engagement further strengthens our belief that universities should leverage on international network and strategic alliances in stimulating greater exchange of knowledge, talent and expertise beyond boundaries and across borders," he said.
Dr. Zaini said, UTM is undergoing a comprehensive institutional transformation that promotes mindset change and better working function as well as delivery systems to transform the university's current operating models to one that is innovative, entrepreneurial and global.
"Our goal is towards sustainability for the academia based on the principles of deep knowledge culture, fertile intellectual ecosystem, high impact contribution and high value creation.
"UTM with the consent of the government is willing to take leadership in promoting the Antarctica Research by championing the Royal Mizan Young Fellowship Award," he said.
In collaboration with the New Zealand High Commission and Academy of Sciences Malaysia, UTM organised a Premier Lecture and a Roundtable Discussion, in conjunction with the New Zealand Week.
The UTM Premier Lecture was a talk delivered by the Chief Science Advisor to the New Zealand Prime Minister, Sir Peter Gluckman, who is a well known paediatrician and Professor at the School of Medicine, University of Auckland.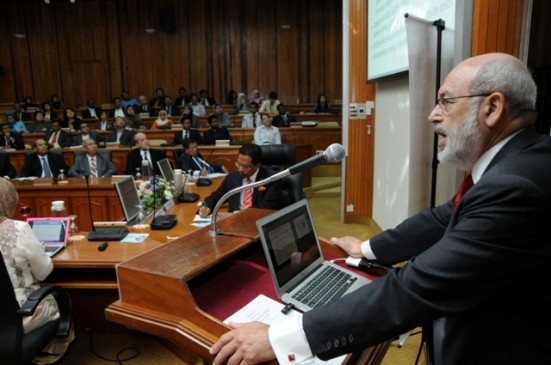 The event included a book launching entitled "A New Landmark of Malaysia Antarctic Research Programme" by His Royal Highness Tuanku Mizan Zainal Abidin Ibni Al-Marhum Sultan Mahmud Al-Mukta Billah Shah, the Sultan of Terengganu. The book is published by the UTM Press and Academy of Sciences Malaysia.
Also present at the book launching event was Minister of Science, Technology and Innovation, Datuk Seri Panglima Dr Maximus Johnity Ongkili.
A Roundtable Discussion was held in the afternoon on "Climate Change and Food Security". The panellists for the forum were Sir Gluckman, Pro-Chancellor UTM and Chair of the Taskforce for the Malaysia Antarctica project Tan Sri Dr Salleh Mohd Nor, a corporate figure Tan Sri Halim Saad, former PORIM's Director General Tan Sri Augustine Ong and Director General of MARDI Datuk Dr Abdul Shukor Abdul Rahman.