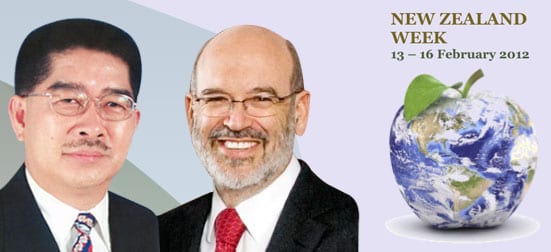 KUALA LUMPUR, 9 February: Universiti Teknologi Malaysia (UTM) in collaboration with the New Zealand Embassy and Academy of Science Malaysia will be organizing a premier lecture and a Roundtable Discussion, in conjunction with the New Zealand Week.
The events, which will see the participation of renowned scientists and corporate figures will discuss global issues related to health, climate change and food security.
UTM International Affairs Director, Professor Dr Mohd Ismail Abd Aziz said, the program will be held on February 14 at the UTM International Campus, Jalan Semarak, Kuala Lumpur.
The theme, "Food for Thought" will  focus on global issues of concern with regard to food, nutrition, science and the effects of environmental changes on food production and agro science.
The first program, the UTM Premier Lecture, shall be a talk delivered by the Chief Science Advisor to the New Zealand Prime Minister, Sir Peter Gluckman, who is a well known paediatrician and Professor at the School of Medicine, University of Auckland.
Sir Gluckman will deliver a talk entitled "Feeding the Baby to Save the Adult: Do Advanced Foods Offer the Route to a Healthier Asia". The talk shall highlight among others, how appropriate infant feeding within the first 1,000 days after birth has a strong association with adult health.
The event in UTM shall also include a book launch entitled "A New Landmark of the Malaysian Antarctic Research Programme" by the Sultan of Terengganu, His Royal Highness Tuanku Mizan Zainal Abidin Ibni Almarhum Sultan Mahmud Al-mukhtafi Billah Shah. The book published by the UTM Press and Malaysia Academy of Science is a coffee table book documenting the visit of His Royal Highness to Antarctica.
Also present at the book launching event will be the Minister of Science, Technology and Innovation, Datuk Seri Dr Maximus Johnity Ongkili.
A Roundtable Discussion shall be held in the afternoon on the theme "Climate Change and Food Security". The panellists for the forum will be Sir Gluckman, Pro-Chancellor UTM and Chairman of Antarctica Taskforce Tan Sri Dr Salleh Mohd Nor, a corporate figure Tan Sri Halim Saad, former PORIM's Director General Tan Sri Augustine Ong and Director General of MARDI Datuk Dr Abdul Shukor Abdul Rahman. The forum shall be chaired by Tan Sri Dr Mustaffa Babjee.