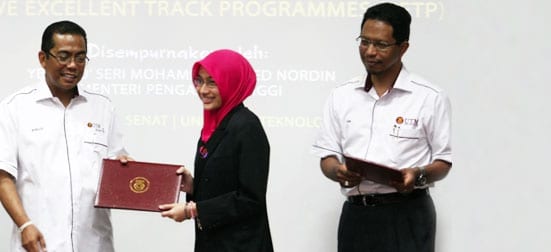 JOHOR BAHRU, 8thJanuary : UniversitiTeknologi Malaysia (UTM) allocates RM2.5million worth of scholarship through its Endowment Fund to be distributed to 150 students in 2012.
UTM Vice Chancellor, Professor Datuk Ir. Dr. ZainiUjang said that the scholarship will be awarded to undergraduates and that the recipients will receive RM12,000 a year.
The scholarship will be renewed yearly until graduation with a condition that the recipients must maintain a cumulative grade point average (CGPA) of 3.75.
The scholarship stipulates that besides being excellent in academic, the students are also expected to be excellent in co-curriculums and that they are not bound by any ties to UTM.
"For a start, 52 students from the 2011/2012 academic session have been selected to receive the scholarship from the Minister of Higher Education, Datuk Seri Mohamed KhaledNordin in UTM today," he said.
He told that a call for applications for the Endowment Scholarship will be made at the end of January for interested candidates.
The Endowment Fund that was started in early 2010 has successfully collected RM31.9 million through contributions from the public, UTM alumni, UTM staff, student associations, corporate sector, associations and societies.
Prof. Zaini said that UTM also hold many programs such as sponsorship of books published by Penerbit UTM Press, golf tournament and investment in financial instruments and unit trusts.
"Besides the scholarship, UTM will hold other programs utilizing the endowment fund to sponsor Professorial Chairs, development of advanced laboratory, and smart classrooms – just like the Harvard Business School," he said.