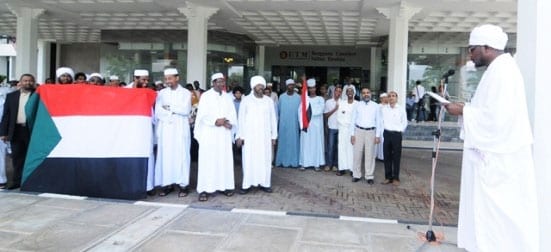 JOHOR BAHRU, 1 January : About 100 Sudanese students in Universiti Teknologi Malaysia (UTM) and Sudanese Ambassador to Malaysia, Mr. Nadir Yousif Eltayeb Babike had celebrated Sudanese 56th Independence Day at Sultan Ibrahim Chancellery Building, on 1st Januari 2012.
The Deputy Director of International Office, Prof. Dr. Ho Chin Siong in his welcoming speech said that it was a momentous time for UTM for celebrating Sudan National Independence Day for the first time.
"In tandem with our international policy, we will continue to promote integration of international and local students together with Malaysian community.
"We have organized many internationalization activities such as Global Outreach Program, summer schools, student exchange programs, internships as well as international student festival.
"This celebration is important because the Sudan students may far away from their home country but the spirit of independence lives on in their life at UTM," he said.
Prof. Ho cited, Malaysia, like any other emerging and developing economies, is hoping to provide inspiration to many other countries to learn and share our technological and engineering development.
"We do hope that UTM as our premier engineering university will provide the opportunity for the Sudanese students to acquire their knowledge and apply them when they graduate and return home," he said.
Meanwhile, His Excellency Nadir Yousif El Tayib Babiker said, he thanked the management and the staff of UTM for the unprecedented gesture and smart initiative to celebrate the National Day of the Sudan.
"This reflects the accommodative spirit and multi cultural nature of this renounced university.
"I also like to commend the role played by the Sudanese students to make this event success," he said.
He cited, Sudan is emerging as a new strong power after a long suffering from the civil war, with the spirit of harmony, stability and with its immense potential of natural resources.
"Sudan is capable of making a tremendous economic development within a short time," he added.
The ambassador also said, that Malaysia and Sudan have enjoyed strong and co-ordinal bilateral relationship in all field such as political, economic, social and cultural.
"The choice of more than 4,000 Sudanese students to cross two continents and travel thousands of miles to study in Malaysia is a prove of the special value that our people attribute to Malaysia.
"We are so grateful to the Malaysian authorities for the hospitality and respect awarded to our students," he said.
Also attending the ceremony was Director of International Student Center. Dr. Che Rozid Mamat.