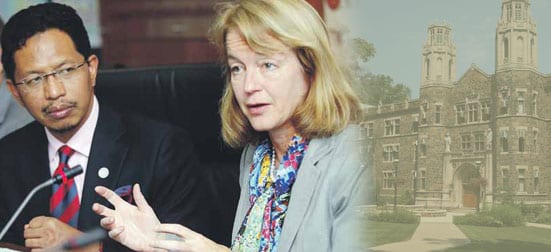 JOHOR BAHRU : A prominent university in the United States, Lehigh University, will use Malaysia as an example of a developed Islamic country to propel the growth of its Centre for Global Islamic Studies (CGIS).
Its president, Prof Dr Alice Gast, said Malaysia was among a few Islamic countries chosen for the role due to its multi-racial and multi-religious make-up.
"We think it will be interesting for students to use Malaysia as an example in their studies," she said after a premier lecture at Universiti Teknologi Malaysia (UTM) here on Thursday.
Present during the session was UTM vice-chancellor Prof Datuk Dr Zaini Ujang and faculty staff as well as students.
Prof Gast, who is also special science envoy for Central Asia under US President Barack Obama, said the present situation would see CGIS studying a broad range of subjects based on the Malaysian experience.
She said the areas, which were to be considered, ranged from architecture, arts, science, economics and Islamic finance.
She added that CGIS would also be looking into collaborating with other countries, such as Indonesia and Saudi Arabia, which had a high percentage of Muslims, to study examples in chosen fields.
Lehigh University's CGIS, which initially offered Arabic language and general Islamic studies, was launched in 2009 with the long-term aim of becoming a global centre for an intellectual community committed to the study of Islamic civilisation.
With the support of a grant from the Andrew W. Mellon Foundation, CGIS promotes interdisciplinary teaching and research designed to take Islamic studies into and beyond the classroom by offering students, faculty and the community a variety of forums for dialogue, debate and experiential learning.
At its core, the CGIS is distinguished by an integrated undergraduate academic programme that provides multiple outlets to study the diversity and dynamism of global Islam.
Source: New Straits Times
Date: 2011/10/08