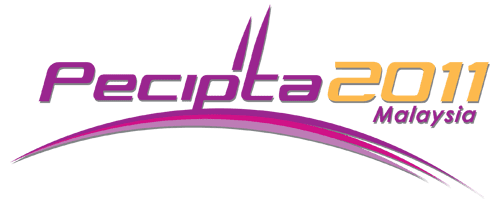 KUALA LUMPUR, 16 September: – Universiti Teknologi Malaysia (UTM) once again dominated the International Conference and Exhibition Exposition on Invention of Institution of Higher Learning (PECIPTA) 2011 when they won the most gold medals in the three-day event, which ended yesterday.
Vice Chancellor Professor Datuk Ir Dr Zaini Ujang said, UTM won outstanding achievement with nine gold medals this year to repeat the success in 2009 when they won the most gold together with Universiti Malaya.
PECIPTA, held every two years, is the largest and most prestigious innovation expo in the country, participated by all public higher learning institutions in the country.
This year 24 public and private higher education institutions participated in the event involving 450 products.
Among the factors that contributed to the success of UTM is that all the products on display are new products that have never competed in any contest before and the findings had been published in high impact journals.
In addition, the products also include business plans and intellectual property protection.
The researchers who won two gold medals each were Professor Dr Noor Aini Abdul Rashid and Assoc. Prof. Dr. Mohamad Kamal A Rahim.
Others researchers who won gold medals were Professor Dr Azman Hassan, Dr. Mohd Ridzuan Ahmad, Assoc. Prof. Ir. Dr. Abdul Rahim Shahrul Kamal, Mailin Mison and Professor Dr Naomie Salim.
Mailin who worked as a Research Officer at the UTM Institute of Bioproduct Development produced virgin coconut oil chocolate which is rich with antioxidants.
The chocolate provides nutrition for daily needs to increase the immune system to prevent diseases.
MEDAL COLLECTION AMONG RESEARCH UNIVERSITIES
| | | | |
| --- | --- | --- | --- |
| University | Gold | Silver | Bronze |
| UTM | 9 | 7 | 11 |
| USM | 3 | 5 | 2 |
| UPM | 4 | 7 | 11 |
| UKM | 3 | 6 | 12 |
| UM | 6 | 4 | 9 |