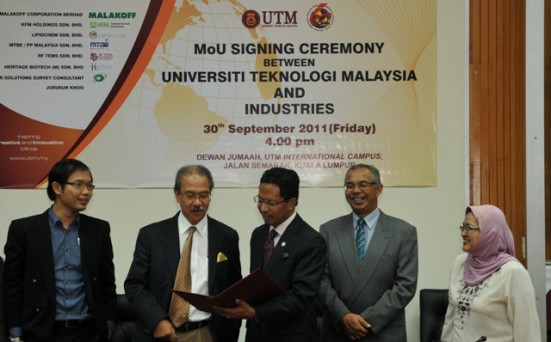 KUALA LUMPUR, 30 September: – Universiti Teknologi Malaysia (UTM) is becoming the preferred university for industrial staff to pursue studies at a higher level through the Industrial Doctorate (Industrial PhD) programme.
Vice Chancellor Professor Dato' Ir Dr Zaini Ujang said, a total of 37 out of 44 applicants from various industries across the country are choosing UTM to pursue their Industrial PhD.
"As the pioneer of the programme, UTM has been chosen by the Ministry of Higher Education to train Industrial PhD supervisors from industries and universities. To date, a total of 98 industry personnel attended the programme at UTM, and 23 of them have graduated.
"UTM had proposed to the Ministry of Higher Education to offer Industrial PhD programme based on the Engineering Doctorate which was implemented in 2003," he said at press conference after signing agreements with five companies that participated in the Industrial PhD programme at UTM International Campus, today.
The companies are Malakoff Corporation Bhd, Bumi Solutions Survey Consultant, Lipichem Sdn Bhd, Heritage Biotech (M) Sdn Bhd, RF Tems Sdn Bhd, and MTBE/PP Malaysia Sdn Bhd.
Another two companies that participated in this programme but are not able to be present at the signing ceremony are Jurukur Khoo Sdn Bhd and KFM Holdings Sdn Bhd.
In addition, other industries that have been participating in this programme are Proton Berhad, Telekom Malaysia Berhad, Telekom R&D Sdn Bhd, MISC Berhad, Summit Facilities Management Sdn Bhd, and Intel technology Sdn Bhd.
"These companies are committed and proactively participate in the Industrial PhD programme since it was launched by the Minister of Higher Education in Januari 2011.
"A total of 37 of 100 Industrial PhD scholarships provided by the Minister of Higher Education under the MyBrain 15 programme was given to 37 industrial staff who pursue their study in UTM," he said.
Dr. Zaini said, the number of Industrial PhD students at UTM will increase because the School of Postgraduate Studies has submitted the applications to the Ministry of Higher Education for approval.
They are from Proton Berhad, Motorola Solutions Malaysia Sdn Bhd, Seagate International Snd Bhd, Telekom Malaysia Berhad, Setia Deal Consultants Sdn Bhd, Optimal Olefins (M) Sdn Bhd, Polymerlatex Sdn Bhd, TM Applied Business Sdn Bhd, RF Tems Sdn Bhd,BMT Jelas Sdn Bhd, Teknik Janakuasa Sdn Bhd, TM R&D Sdn Bhd, UCSI and SR Aviation Sdn Bhd.
"The Industrial PhD programme is launched to assist the government in producing more professionals with doctoral degrees in science and technology and has been offered a scholarship worth RM50,000 each during their study.
"To ensure the success of this programme the government allocated RM50 million in order to produce 500 professional workforce in industry who will have their PhDs by 2015," he said.