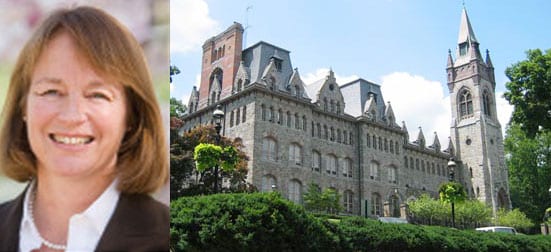 SKUDAI, 30 September: – President of Lehigh University, United States of America, Professor Dr Alice Gast will visit Universiti Teknologi Malaysia (UTM) to discuss potential areas of collaboration between the two universities in areas of mutual interest.
Vice Chancellor Professor Datuk Ir Dr Zaini Ujang said, among potential collaboration are in the field of biotechnology, water, sustainability, chemical engineering and Islamic studies.
"Lehigh University also plans to establish research collaboration, staff and student exchanges in areas of chemical engineering, computer science and civil engineering, advanced applied physics and microscopy," he said.
Lehigh is noted in the areas of rubber and earthquake engineering.
Dr Gast who is also special science envoy for Central Asia under President Barak Obama plans to establish the Centre for Islamic Studies in Lehigh University and have chosen Malaysia as a model.
A former Vice President (Research), Massachusetts Institute of Technology (MIT), Dr Gast has been named among 100 "Modern Era" engineer in the United States under the leadership category by the American Institute of Engineers.
While at UTM she will deliver a talk at the UTM Premier Lecture Series entitled "International Education Today" at the Senate Hall on October 6, at 2.00 pm.
She will also be meeting Chief Minister of Johor,  Dato' Abdul Ghani Othman to discuss potential areas of collaboration in Educity in Iskandar Malaysia.
Lehigh University is a prominent private university in the United States located at a strategic location near New Jersey where there exist a strong representative of Muslim scholars.