KUALA LUMPUR, August 10: – Universiti Teknologi Malaysia (UTM) and Imperial College London are currently engaged in research collaboration to produce low-carbon vehicles.
The technology developed will reduce carbon dioxide emissions released by vehicles.
The study was carried out on downsized conventional engines without reducing the power. Moreover, the engine can also be used for hybrid vehicles.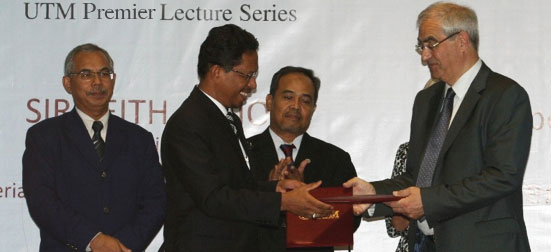 The project which began in 2010 involves collaboration with Professor Dr. Martines Ricardo Botas, a member of the Proton Technology Advisory Council (PTAC).
PTAC is chaired by the Vice-Chancellor of UTM Professor Dato 'Ir Dr Zaini Ujang to assist Proton and Lotus in the development of suitable vehicles for the current market.
Cooperation is sealed through an agreement signed by Zaini Ujang and Rector of Imperial College, Professor Sir Keith O'Nions at the UTM International Campus in Kuala Lumpur today.
In conjunction with the MoU signing ceremony, Sir Keith O'Nions was invited to give a lecture entitled "Imperial College – Research and Its Translation" as part of the UTM Premier Lecture Series.
UTM has been engaged with Imperial College, a leading university in the world since 25 years ago.
Through this collaboration UTM and Imperial College will produce fuel cell vehicles using hydrogen. Research in the field of fuel cell includes designing and developing engines.
Both universities will develop a membrane technology and produce solar energy to reduce carbon dioxide emissions. The development of membrane technology is to produce inorganic membrane and polymeric membranes for use by industries and vehicles.
Through this collaboration UTM will send a total of 10 students to conduct research for the degree of Doctor of Philosophy (PhD) at Imperial College for a period of five years, while 10 other PhD students will study in UTM under the supervision of Professors of Imperial College.
The research is done to reduce pollution caused by carbon dioxide emissions by vehicles and industries that have resulted in an increase in global temperatures.
The increasing world temperature has caused unpredictable weather conditions around the world leading to floods, hurricanes, heat waves and droughts.