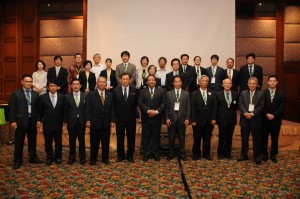 JOHOR BAHRU, 4 JULY, 2011: Universiti Teknologi Malaysia (UTM) was appointed by the Japanese government as a low carbon research hub to train researchers from developing countries in the Asian region.
Head of Researcher, Professor Dr Ho Chin Seong said, the Japanese government has allocated a grant of RM7.8 million to UTM for five years to conduct research and train researchers and government officers from Indonesia, Thailand, Vietnam, Philippines and Cambodia to overcome the problem of carbon dioxide emission in the respective countries.
"UTM will lead the Malaysian researchers to collaborate with a team of environmental scientists and researchers from the National Institute for Environmental Studies (NIES), Japan,  Kyoto University, and Okayama University to conduct research in the Iskandar Malaysia region.
"Iskandar Malaysia was chosen as the site for conducting research and developing models of low-carbon society because the area is fast growing," he said.
He was met at the Symposium and Workshop on Low-Carbon Asia Pacific Hotel Johor Bahru, which was opened by the Chairman of Johor Exco for International Trade and Industry; Energy, Water, Communications and environment YB Tan Kok Hong, who represented the Chief Minister of Johor.
A two-day symposia and workshop was organised by the Iskandar Regional Development Authority (IRDA), UTM, Kyoto University, (NIES), Japan International Cooperation Agency (JICA) and Japan Science and Technology Agency (JST).
The symposium and workshop held in conjunction with the launching of Low Carbon Society (LCS) in the Iskandar Malaysia region, which aims to promote dialogue between policy makers and researchers and create networks to help increase capacity for promoting low-carbon policies scientifically in Asia.
The symposium and workshop were sponsored by the Low Carbon Society Regional-net (LCS-R net), JST and JICA under the Science and Technology Research Project on the Environment (SATREPS).
Professor Ho said, in order to fulfill its 40% voluntary reduction in carbon intensity by 2020, the government should introduce and implement a low-carbon society to reduce the amount of carbon dioxide emissions at national level.
"Therefore, Malaysia will need to design a road map towards a low-carbon society at either regional or city level and the Iskandar Malaysia region was selected as a study site that will showcase the best practices of low-carbon for the region.
"Overall this research project will benefit not only for the Iskandar Malaysia region but  the whole country and Asia as well," he said.
The study will direct projects where researchers and government officials or administrators in developing countries can cooperate in the implementation of research results in areas or areas involved.
Among the purpose of the research includes:
a)      To determine the total energy consumption and CO2 emission based on the existing Comprehensive Development Plan (CDP) of Iskandar Malaysia
b)      To compute a summary of quantitative alternative scenarios on the establishment of a sustainable low-carbon society
c)      To identify potential mitigation measures and policies in the areas of building, transportation, and solid waste management and
d)      To promote awareness among local authorities, the State Government, stakeholders and the community in general to realise a robust growth and a             low carbon society in Iskandar Malaysia.