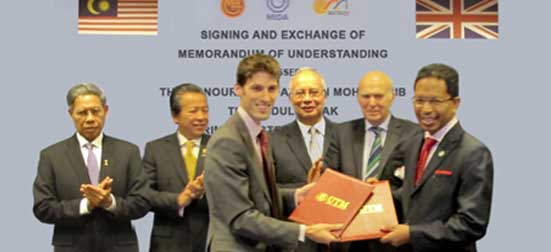 London, 13 July 2011 : As part of its mission, the Universiti Teknologi Malaysia (UTM) is committed to adopt internationalisation as its high priority through international collaboration in academic, teaching, learning, research, innovation and student exchange.
On the auspicious event, UTM has signed the Memorandum of Understanding (MoU) with Imperial College London to conduct joint research and educational activiti
es of common interest in various fields in Low Carbon Technology and Automotive Engineering as part of the collaborative framework with Proton Technological Advisory Council. Other matters also include exchange of faculty members, graduate students and research associates for mutual interests of both parties.
The MoU was signed by Dr Christopher Bird, Director of International Strategy and Partnership, representing Imperial College London with Prof Dato' Ir Dr Zaini bin Ujang, UTM Vice Chancellor, witnessed by Dato' Sri Mohd Najib bin Tun Abdul Razak, Prime Minister of Malaysia.