Skudai, October 6th: Employers nowadays are no longer interested in hiring graduates equipped with only good grades but are seeking those with effective soft skills such as communication skills and the ability to work as a team.
The Brand Manager of Malaysian International Shipping Corporation (MISC), Nor Efendi Nordin in his interview with SkudaiPost revealed that graduates nowadays lack soft skills.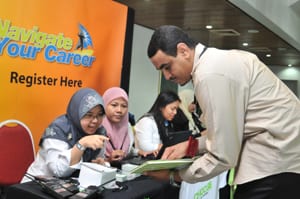 "This workshop is one of our efforts to assist the future graduates in landing a job right after their graduation.  Our concept is based on real life job seeking situation with a concept of learning through experience," said Nor Efendi.
It also uses a business concept and adaptable to all kinds of job application and not just restricted to MISC itself.
"The workshop is divided into three sessions namely managing change, mind mapping strategy and let's chat.  The first session will assist the participants on understanding risk taking and decision making techniques," said Nor Efendi.
On the mind mapping session, participants are encouraged to solve day to day challenges with mapping tools and techniques.  This is to allow them to gain the ability to make effective decisions with limited resources.
"The third day is more suitable for final year students.  In this 'let's chat' session, these future graduates are guided with the right ways to write their resume and important tips in attending job interviews," said Nor Efendi
Nor Efendi also said that the MISC will be conducting a student attachment programme to expose graduates with more real-life working experience.
"This November, we will post an essay writing competition in our webpage.  Through this, we will be selecting the best 8 participants to be attached to MISC," he said explaining about the programme.
Under this scheme, students involved will be required to undergo practical training at the shipping company for one and a half months.  During this time, the students will be handed jobs which are entirely different from the courses they are taking in UTM to enable them to learn and hone their skills.
"This is making sure that they are able to find a job that is totally different from their respective fields and learn to adapt in different situations," said Nor Efendi.
The main objective of this programme is to produce graduates who are able to fulfill the needs of the current job market complete with the soft skills required.
"It is not just what you have actually but, the 'package' that comes with you makes the difference," said Nor Efendi ending the conversation.
The 'Navigate Your Career ' workshop was held for three days at Dewan Sultan Iskandar, UTM Johor Bahru campus beginning October 5th 2010  and opened to all students.
The MISC has been conducting this job hunting workshop since four years ago and has toured several public universities such as Universiti Teknologi MARA, Universiti Utara Malaysia, Universiti Teknologi Petronas, Universiti Kebangsaan Malaysia and Universiti Malaya.