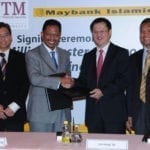 KUALA LUMPUR, 11th February: Universiti Teknologi Malaysia (UTM) saves nearly RM27 million for settling the loan with Employees Provident Funds (EPF) via a loan package with Maybank Islamic Berhad.
Vice Chancellor, Prof. Dato' Ir. Dr. Zaini Ujang said UTM made a RM100 million loan with Maybank Islamic Berhad to settle the loan made in 1999.
The decision take up the loan with Maybank Islamic Berhad   is done because the banking institution offers a lower interest rate of 3.8 percent per year.
The package offered by Maybank Islamic Berhad also reduces the repayment term from 14 years with EPF to 10 years using the Commodity Murabahah Term Financing.
The documents were signed by UTM Vice Chancellor Prof. Dato' Ir. Dr. Zaini Ujang and  Deputy President, Head Community Financial Services, Maybank, Lim Hong Tat.
The step taken is suitable with UTM's plan to implement various initiatives to reduce operation costs and increase internal income in order to ease financial dependency with the government.
In 1999, UTM made a loan of RM160 million with an interest rate of 8.5 percent per year for 25 years. The loan was made to build a 22-block hostel to cater to the increasing need students' accommodation.