MUAR, Johor, 8th February: Universiti Teknologi Malaysia (UTM) gave out donations to more than 284 families of flood victims that are sheltering at Sekolah Menengah Kebangsaan Sultan Alaudin Riayat Shah 1, Pagoh, today.
The aid was presented by the Deputy Director of Strategic Planning and Knowledge Management, Associate Professor Dr. Mohd Ariffin Abu Hassan to Y.B Tahir Saad, the Bukit Serampang State Assembly Member.Also present at the ceremony was Political Secretary from the Ministry of Education, Mr. Syahrin Md Jamaludin and Senator Hajjah Noriah bt Mahad.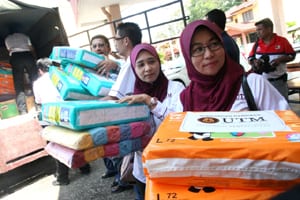 A total of RM20 thousand was provided by UTM in the form of clothings, biscuits, drinks, disposal diapers, blankets and medications to the flood victims who have been sheltering there since 8 days ago.
In addition to the aid presentation, a group of Medical Officers headed by the Director of UTM Students Health Centre, Dr. Zaleha Nasir, visited, examined and provided treatment to those in need of assistance.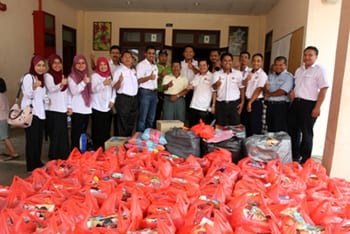 The decision to provide aid was made after the visit by the UTM Vice Chancellor Prof. Dato' Ir. Dr. Zaini Ujang last weekend to accompany Her Royal Highness Raja Zarith Sofiah binti Almarhum Sultan Idris Shah to visit the flood victims.
During the weekend visit, 38 UTM undergraduates were sent to Segamat to take part in community service programme to help the flood victims in the district. Among the activities performed was the cleaning of two primary schools in Kampung Jawa and Kampung Pogoh and the affected houses in Kampung Tengah.
The programme was also participated by the undergraduates from Universiti Pertahanan Nasional Malaysia (UPNM), Universiti Teknologi Tun Hussein Onn (UTHM), Universiti Teknologi Mara (UiTM) Segamat, Kolej Komuniti Bandar Putra and Segamat Education Department.