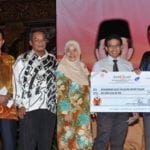 Johor Bahru, 21st January:  The Malaysia development and economic downturn gave impact to the Negeri Sembilan's economy directly.
Negeri Sembilan Chief State Minister, Yang Amat Berhormat Dato' Seri Utama Hj. Mohamad Hj. Hasan in his speech, said that the recession in 2008 and 2009 had made a huge and significant effect to the state economic growth.
"That's why I had made various policies to diversify the economy such as in services and tourism. The alternative gave opportunities to the industrial sector which was much affected by the global economic crisis".
The agricultural sector had also been identified to be one of the contributors to the economic growth rate at 30% last year.
He was giving a speech during the Outstanding Students Award 2011 Dinner Ceremony for First Class Negeri Sembilan Students at Sultan Iskandar Hall, UTM Johor Bahru campus.
Mohamad also reminded the students to thank to the government and emphasized them that what they have been receiving is not free.
"These are the long-term government investments to students.  You should be thankful and proud of your country and accept the fact that we are in a multiracial country.  Love your country by showing your commitment", he said.
He then handed a replica cheque worth RM30, 000.00, as a contribution to the Negeri Sembilan Foundation Fund to Vice Chancellor of UTM, Prof. Dato' Ir. Dr. Zaini Ujang. About 50 first class students, whereby 19 students are from various ethnic groups from Negeri Sembilan's were awarded RM 5000.00 each in recognition of their achievements.
Also present at the awards ceremony were the Deputy Vice Chancellor (Academic and Internationalisation); Prof. Ir. Dr. Mohd Azraai Kassim, Dato' Hj. Md. Ali Hassan; Negeri Sembilan State Secretary and other senior officials.