Johor Bahru, 30th December:  A total number of 623 new Post-Graduate students have registered to study at Universiti Teknologi Malaysia for the 2010/2011 session.
UTM Vice Chancellor, Prof. Dato' Ir. Dr. Zaini Ujang at a press conference, said that a total number of 498 students have enrolled for Masters level, while another 125 students for Doctor of Philosophy (PhD).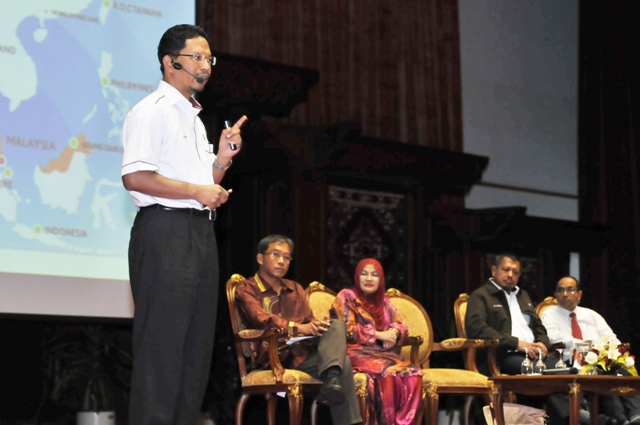 "This sum includes 164 foreign students who have registered for Masters and 64 for PhD," said Zaini.
He was met after delivering a speech at the Briefing Ceremony of New Post-Graduate Student Semester 2, 2010/2011 admission session on 30th December 2010 at Dewan Sultan Iskandar.
"We are expecting an increasing number of registrations because the process will last until January 15, 2011. This is to provide an opportunity for students who register late because of unavoidable circumstances," he said.
Admission for post-graduate students at the university for 2010 had exceeded the 8000 target, as a total of 8240 students registered.
"As a research university, UTM will keep on increasing the post-graduate students enrolment to 9000 students in 2011 and 10,000 students in 2012," said Zaini describing future plans for his headed university.
The Vice Chancellor is also planning to spearhead a new PhD program to strengthen the Industrial Human Capital Development in the industrial sector and to assist in developing innovation-based economy.
"This programme will be an alternative to the existing PhD programme. It will put more focus on the research issue of problem-solving aspects of the industry as the more practical and direct benefits to the industry involved," he said.
Students enrolling in this programme are employees and managers in the industrial sectors who are not required to quit their jobs.
"They will be given an equivalent degree of a PhD as other available programmes upon graduation," he said.
Zaini, while delivering his friendly speech also encourages the students especially the international students to adapt with the new culture environment and making friends while in the campus.  He said the success formula is actually by blending and integrating the ability, effort and positive attitude with each other.
Also participating in the ceremony was the Dean of the Graduate School, Prof. Dr. Rose Alinda Alias, as well as other UTM senior officials.