Kuala Lumpur, Dec 1st:  Universiti Teknologi Malaysia (UTM) and Proton has successfully built electric cars using the latest SAGA model.
UTM Vice Chancellor, Prof. Dato' Ir. Dr. Zaini Ujang in a statement said the success is the starting point for future achievements in research collaboration between UTM and Proton.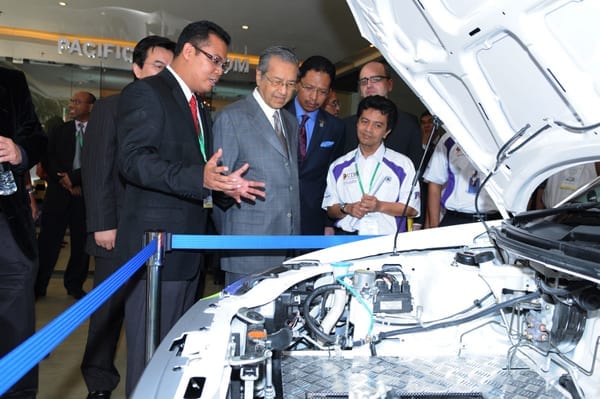 According to Zaini, the collaboration between the two parties starts by converting a petrol-based SAGA model to a fully electric-powered car.
A group of UTM and Proton researchers conducted an 11 month research and modification to enable the car to be powered by electricity.
The car can travel as far as 150 kilometres (KM) using a 15 Kilowatt battery that takes up to 7 to 8 hours to recharged conventionally.
The usage of this vehicle can cut cost due to low electricity tariffs in this country and car owners does not need to change the engine oil.
The car is suitable for urban or short distance travelling and it is environmentally friendly as it does not release sound or smoke.
The project, led by Associate Prof. Dr Nik Rumzi Nik Idris from the Faculty of Electrical Engineering (FKE) is one of the programmes under the Proton Professor Office under the supervision of Dr. Mohd. Azman Zainul Abidin, the current Proton Professor from the Faculty of Mechanical Engineering, appointed to chair the office based at Proton's main production plant in Shah Alam.
Dr. Mohd Azman was appointed to lead human resource R&D activities in Proton's Engineering Division for two years starting March 2010.
The modification works was done at the FKE lab at Skudai, Johor and at the Proton Research Department lab in Shah Alam.
The lab at FKE will be rebranded and will be known as the Electric/Hybrid Vehicle Satellite Lab  and will be the first Proton satellite lab to be equipped with the latest equipment.
All joint-research activities concerning hybrid and electrical vehicles will be done in the lab, and is hoped will be able to increase long-term research collaboration between UTM and Proton.