Johor Bahru, 28th December: Life extension, also known as anti-aging medicine, experimental gerontology, and biomedical gerontology, refer to attempts to slow down or reverse the processes of aging to extend both the maximum and average lifespan.
The enthusiasm of women to stay beautiful and ageless makes anti-aging products highly demanded in the market.  The sale of putative anti-aging products such as nutrition, physical fitness, skin care, hormone replacements, vitamins, supplements and herbs is a lucrative global industry, with the US market generating about $50 billion of revenue each year.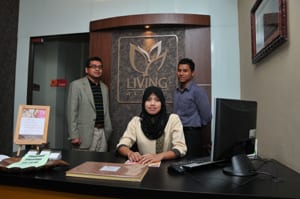 In an interview with the Chemical Engineering Pilot Plant (CEPP) Director, Prof. Dr. Ramlan Abdul Aziz, he highlights that "the latest product from CEPP, which is also the hot selling product outside is Labicea™ Revitalising Moisturizer.  Formulated from Labisia pumila (Kacip Fatimah), Labicea™ Revitalizing Moisturizer helps protect the skin from premature aging, giving a radiant and youthful skin.  The research and testing was done at Korea but the formulation comes from Malaysia."
As researchers and equipment are available at CEPP, CEPP can manage to develop active ingredients to be used in the final formulation of beverages, function of food, nutraceuticals, cosmoceuticals, biopharmaceuticals and aromatherapy perfumes.
He added, "By February 2011, we will officially launch our first wellness shop under Living Active brand at Bangi, Selangor.  The wellness shop will be operated by the training staff in order to give much exposure of what CEPP is doing so far.  After all, we need to have our own shop to market the products directly and other branches will follow suit as well in future".
Prof. Ramlan said, CEPP wants to commercialise the concept of wellness to the market and buyers can get the products accessible easily.  By doing that, it can help to source more income to CEPP and at the same time fulfil the university's KPI.
"For instance, a well-known celebrity such as Datuk AC Mizal of AC Mizal Consortium just came to CEPP and asked us to help him to diversify and to design their 9 wellness products.  He also asked us to develop a new formulation such as tooth paste and other personal care products using our own CEPP wellness concept".
"With the tagline of "Providing Healthy Solutions for Healthy Living", CEPP is now promoting the newly open SPA named Living Active Wellness Centre that is open weekdays from 10am – 7pm and by appointment during weekend to our staff and the public.  It is opened not only to women but men too".
Living Active Wellness Centre located at the Institute of Bioproduct Development is offering their opening promotion until 31st January 2011 at a very affordable price as low as RM29.00 per service.  The services include facial treatment, resdung (sinus) treatment, facial aromatheraphy, reflexology, back massage and body scrub.  An appointment can be made by contacting the theraphists, Ms. Kartini, Ms. Lizawati or Mr. Ikhsan at 07-5536471.