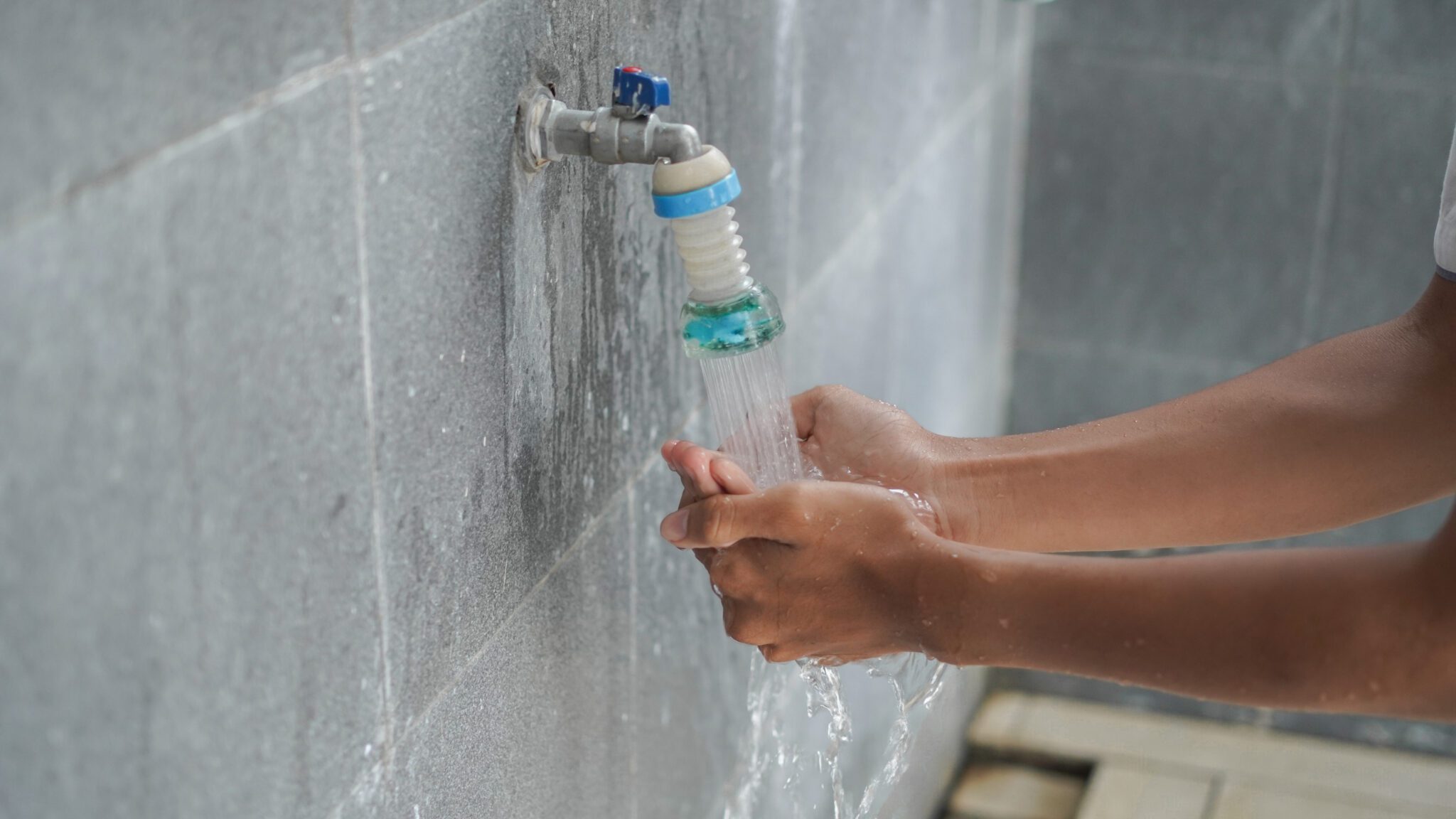 Prepared by:
Dr Aminudin Hehsan

Dr Zulkiflee Haron

Center of Research for Fiqh Science and Technology (CFiRST), UTM
A description of water significance from the perspective of Islam
Ma` or water is a molecule that consists of two hydrogen atoms and one oxygen atom that is considered a simple structure but still can produce complex reactions.
Therefore, water is called a universal solvent because it has a dynamic equilibrium.
Water is also one of the most important pillars of the universe because Allah created everything that lives from water.
Allah explained this in the Quran; "Do the disbelievers not realize that the heavens and earth were 'once' one mass then We split them apart? And We created from water every living thing. Will they not then believe?" (al-Anbiya' 21:30).
Ibn Qayyim al-Jawziyyah in his kitab Zād al-Ma'ād fi Hadyi Khayr al-'Ibād, vol. 4, stated that water by its natural nature is cold and moist, can reduce heat and keep the body fresh.
Water quality can be observed through ten methods as explained by Ibn Qayyim al-Jawziyyah in the following table:
| | | |
| --- | --- | --- |
| No. | Item | Description |
| 1 | Colour of water | Good water is clear in colour |
| 2 | Smell of water | Good water does not smell |
| 3 | Taste of water | Good water tastes fresh a bit sweet like the water of the Nile and Euphrates rivers |
| 4 | Weight of water | Good water is light and soft |
| 5 | Water area | Water from well-drained areas |
| 6 | Sources | Water from a deep spring |
| 7 | Water conditions | Water that is exposed to wind and the heat of the sun which is not hidden underground |
| 8 | Movement | The water that flows fast |
| 9 | Quantity | A large quantity of water is capable of decomposing a bad mixture |
| 10 | Location | Where water flows from north to south or from west to east |
Table 1: Ibn Qayyim Method to identify the quality of water. Ibn Qayyim al-Jawziyyah, Zād al-Ma'ād fi Hadyi Khayr al-'Ibād, volume 4, page 238-239
According to Ibn Qayyim al-Jawziyyah again, if we look at the water that meets the above conditions it is the water of four rivers in this world, namely the Nile River (in Egypt), the Euphrates River (in Iraq), the Saihān River and the Jaihān River (both- both in Iran).
These rivers have been mentioned in a hadith narrated by Abu Hurairah that the Prophet Muhammad said: "The rivers of Saihān, Jaihān, al-Nil and al-Furāt, are all rivers of Paradise". Hadith issued by Muslim, in al-Jannah wa Sifat Na'imihā Bāb Mā Fi al-Dunya min Anhār al-Jannah (hadith no. 2839). 
Ibn Qayyim in Kitab al-Wābil al-Sayyib Min al-Kalim al-Tayyib also linked it with rainwater "Ghaith" to explain the influence and role of water with life.
The name and tastes perfect for the spiritual and physical.
Rainwater is the kindest, gentle, useful water category and has many blessings, especially when it rains from the clouds accompanied by thunder and gathers in the mountain lakes.
Rainwater is the moistest water due to not being accumulated on the earth compared to other types of water.
Thus, it is easy to change such as unpleasant smell due to faster reaction.
There is a hadith from Anas bin Malik. He said: We were with Prophet Muhammad when suddenly it rained. The Prophet Muhammad (peace and blessings of Allah be upon him) uncovered his cloth so that it would be exposed to rain, and he said: "Indeed, this water has just come from its Lord". This hadith was issued by Muslim, Sahih, in Solāt al-Istisqā' Bāb al-Duā' fi al-Istisqā', (hadith no. 898).
Ibn Qayyim also described some of the features, importance, and content of other types of water such as snow, dew water, well water, mineral water, zam zam water, Nile water and seawater.
To ensure water quality remains tremendous and healthy, therefore it is necessary for good and efficient management by human beings who have been given the trust as caliphs on this earth.
Water can also affect the human body and coexist to shape the character. When the tongue is moistened with saliva molecules that always remember God, it indirectly forms positive molecules and crystals.
It's different with a person who speaks dirty or anything that is not zikrullah, the molecules change to become negative. It flows in the body and makes it polluted and defective.
The relationship between tongue with the formation of a human character can be further strengthened by the statement of the hadith narrated by al-Bayhaqi in Syu'ab al-Imam, who said "From al-Hasan, from some of his companions said: The Prophet Muhammad said: "Faith is not straight a servant until his heart is straight, and his heart is not straight until his tongue is straight". (vol.1. 97, no. 8).
/ Department of Deputy Vice-Chancellor (Research and Innovation)