By: Wong Jia Jian (JKM KTHO) & Siti Nur Fatin Hakimah binti Ibnuzaman (Editor)
Kolej Tun Hussein Onn (KTHO) participated in the Universiti Teknologi Malaysia (UTM) Games led by UTM Sports Excellence (USE) from 26th November until 1st December 2022. The program's participation is led by Biro Sukan Jawatankuasa Kolej Mahasiswa Kolej Tun Hussein Onn (JKM KTHO) to teach managers and athletes from KTHO to bring glory to themselves and their college by winning their respective sports events.
Biro Sukan JKM KTHO sent 15 managers and 145 athletes to participate in the UTM Games in hopes of achieving our target of at least nine gold medals and whatever medal they can earn. The program is held from 25th November to 1st December 2022. There are nine sports events to be competed in: Football, Basketball 3X3, Tenpin Bowling, Petanque, Track and Field, Handball, Woodball, Netball, Rugby 7 and Rugby Touch.
For Day 1 (25th November 2022), team KTHO participated in 4 sports events (Track and Field – Male & Female, Pentaque – Female, Football – Male and Tenpin Bowling – Male and Female). Team KTHO secured 2 Gold Medals (100m Female, 3000m Female), 4 Silver Medals (200m – Female, Long Jump – Female, 4x100m – Male & Female) and 2 Bronze Medals (400m – Male, 4x400m – Female) from Track and Fields events and 1 Gold Medal from Tenpin Bowling (Female Individual Category). The Football team drew their match 0-0 against KRP, but they lost their second match to KDOJ 2-1 and were eliminated from the group stage. The Petanque Female team got 4th placing, just missing out on a medal placing.
For Day 2 (26th November 2022), KTHO participated in different sports events (Handball – Male & Female, Woodball – Male, Netball – Female, Petanque – Male and Basketball 3X3 – Male & Female, Rugby – Male & Female). KTHO's Handball team (Male & Female), Netball team (Female) and Basketball team (Male) managed to advance to the knockout stages. The achievements gained from this day were from Rugby – Female and Petanque – Male, which was the bronze medal. Those are significant achievements, but there are minor achievements as well.
The opening ceremony commenced on Day 2 as well. The opening ceremony consists of performances, speeches, marching and athletes taking paths for the games. The KTHO contingent plays a part in the ceremony with the participation of the marching team. Although team KTHO did not win the marching competition, the team KTHO enjoyed themselves to the fullest and put in their best effort for the sake of the college.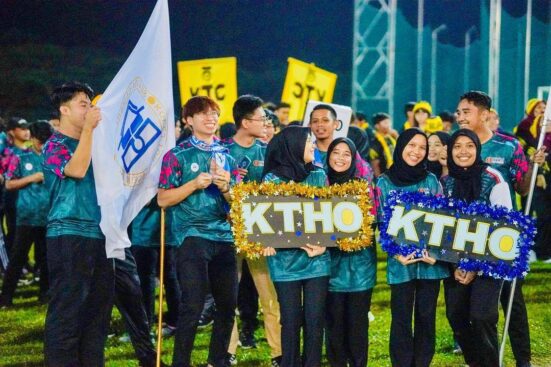 For Day 3 (27th November 2022), the remaining knockout games were played, and the basketball team (Male) did their best by reaching the finals but fell short of getting the gold by securing the silver medal. Day 4 (28th November 2022) was a rest day for KTHO, as no events were played that day. And finally, for day 5 (29th November 2022), KTHO's cheer squad competed in ULTRAS during the afternoon but failed to secure the win despite being one of the most exceptional teams. KTHO handball teams (Male & Female) played in their respective knockout games. Both teams fought well by reaching the semis but could not advance into the finals. However, both of the teams still managed to receive a bronze medal.
For Day 6 (30th November 2022), there were no events played by KTHO as our contingent has completed all their events. For the last day of the UTM Games (1st December 2022), what remains is the closing ceremony. The closing ceremony started with the football match's final; unfortunately, team KTHO was not in. After the game, the organizers rewarded all the medals not distributed yet and announced the overall champion for both the male and female categories. That marked the end of UTM Games 2022.
Overall, the KTHO contingent scored three gold medals, six silver medals and five bronze medals. We did not hit our target of securing nine gold medals, but we were very close as we had six silver medals. It is both a shame and motivation for us as we strive to better ourselves for the following games. We benefited from the fun as we achieved one of our objectives: scouting players and figuring out their strong suit, and knowing which sport we needed to emphasize more have a better result in the next game. The KTHO contingent is forever grateful for their athletes, managers and whoever participated in helping the KTHO contingent in their meaningful UTM Games campaign.