JOHOR BAHRU, 26 May – Universiti Teknologi Malaysia (UTM) has forged the Memorandum of Understanding (MoU) with Johor Corporation (JCorp) with the signing ceremony that took place at the Johor Bahru campus yesterday.
The MoU ceremony was signed by YBhg. Datuk Syed Mohamed Syed Ibrahim, President and Chief Executive of Johor Corporation and YBhg. Prof. Ts Datuk Ahmad Fauzi Ismail, the Vice-Chancellor of UTM.
The event confirmed the robust and multifaceted partnership between the two organisations with both parties confirmed the great importance of attaching their relationship and underlined the strategic nature and potential of the partnership.
UTM Vice-Chancellor, Prof. Datuk Ts. Dr Ahmad Fauzi Ismail said Johor Corporation and UTM will work together to enhance the economy's competitiveness and support the private sector's development in academic and industrial settings. Particular attention will be paid to promoting property technology (Proptech).
"Cooperation will also focus on improving information technology, namely big data, cybersecurity, the Internet of Things (IoT), blockchain and data science.
"Given the strategic orientation of the partnership, both organisations are committed to reinforcing collaboration in developing human capital, skills, up scaling and internship for staff and students and up-skilling programmes," said the Vice-Chancellor after signing the MoU.
In addition, both organisations are also keen to collaborate in research partnerships as the strategic alliance between Johor Corporation and UTM, especially in research will benefit both stakeholders in various ways.
"These advantages for academics may include the chance to confront complex research topics with practical applications, witness the beneficial effects of their research and gain access to new knowledge, information or resources.
"Johor Corporation can enhance its performance by creating novel methods or technologies, reducing the risk associated with research investments and expanding the capabilities and domain knowledge at its disposal," said Prof. Fauzi.
Prof. Fauzi added that the collaboration between both parties will impact both stakeholders and assist in making a difference locally and worldwide through several activities breakthroughs and the creation of creative enterprises with the ultimate aim to strengthen the economic development in Johor and Malaysia.
"Knowledge and technology transfer are the main pillars of university-industry collaboration. There is ample proof that successful partnerships and the transfer of technology and practical knowledge are strongly correlated.
"An extensive transfer can increase the novelty of the technology, foster innovation and accelerate product development," said Prof. Fauzi.
Knowledge and technology transfer is influenced by strategy and motivation and this relationship can be strengthened by using the applicable regulations and incentives.
Universities and businesses may have differing effects on knowledge transfers. Both organisations have much to gain from these collaborations since they will promote the discovery of new synergies and models that promise mutual potential for return on investment.
Also attending the ceremony were Deputy Vice-Chancellor (Academic and International), Prof. Sr. Dr Hishamuddin Mohd Ali and Deputy Vice-Chancellor (Research and Innovation), Prof. Dr Rosli Md Illias.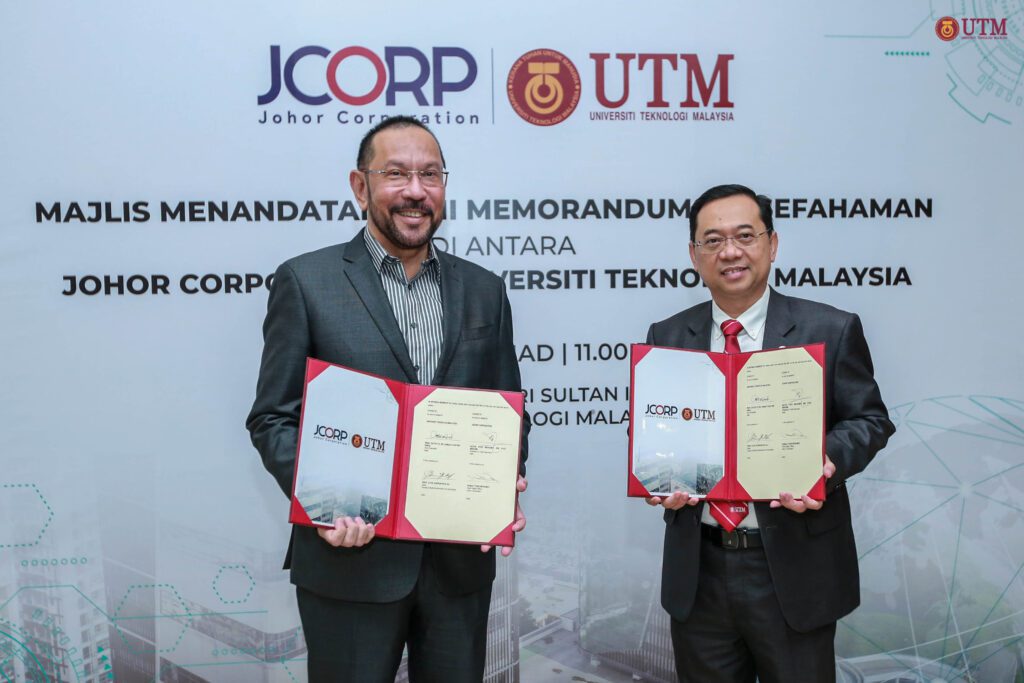 President and Chief Executive of Johor Corporation, YBhg Datuk Syed Mohamed Syed Ibrahim (left) with UTM Vice-Chancellor, Prof. Datuk Ts Dr Ahmad Fauzi Ismail after the signing ceremony of MoU to begin the strategic collaboration between UTM and JCorp.