JOHOR BAHRU 16 Mei – Mehedi Hassan, pelajar Fakulti Kejuruteraan Kimia dan Kejuruteraan Tenaga (FKT) sekali lagi berjaya memenangi  Monthly Mobile Phone Video Competition 2018 UTM untuk kali kedua, setelah memenangi pertandingan tersebut pada bulan April.
Bagi pertandingan edisi April ini, pemenang dipilih berdasarkan jumlah Likes tertinggi pada video yang dimuat naik di laman Facebook Universiti Teknologi Malaysia. Sebanyak lima penyertaan video dimuat naik dan video yang dihasilkan Mehedi mendapat lebih 300 bilangan Likes.
Mehedi menerima hadiah kemenangan berupa wang tunai RM500 dan sijil kemenangan yang disampaikan oleh Pengarah Hal Ehwal Korporat UTM, Prof. Madya Dr. Zaleha hari ini.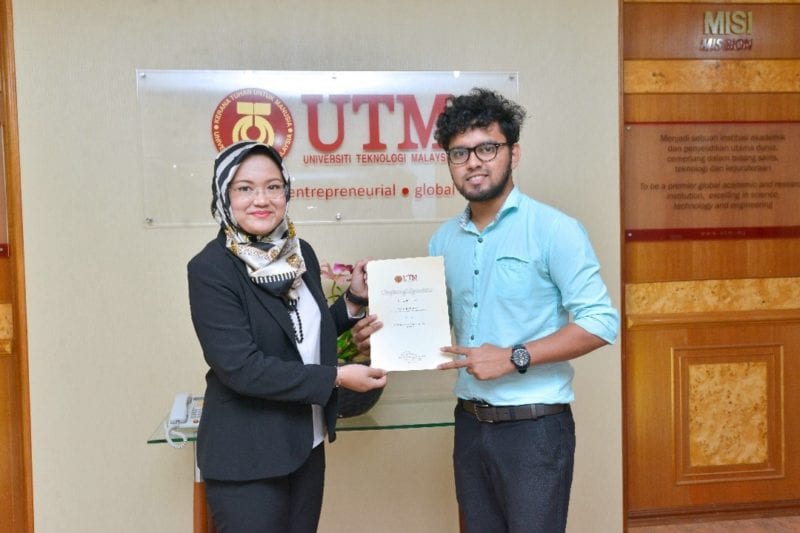 Mehedi menggunakan telefon bimbit peribadi miliknya iaitu sebuah telefon berjenama Xiaomi model Mi5S untuk merakam detik-detik indah sekitar Majlis Konvokesyen UTM ke-60 pada 28 dan 29 April lalu dan menggunakan aplikasi Filmora bagi proses penyuntingan.
Mehedi menyifatkan kemenangan ini sebagai sesuatu yang sangat bermakna untuk dirinya sebagai pelajar UTM yang sangat berminat kepada bidang videografi walaupun sedang mengambil jurusan Kejuruteraan Kimia.
Mehedi berterima kasih kepada UTM kerana mewujudkan pertandingan seumpama ini. Secara tidak langsung, pelajar sepertinya dapat mengasah bakat dalam bidang berbeza (videografi) walaupun sedang mengambil jurusan Kejuruteraan Kimia. Inisiatif ini adalah bukti kepelbagaian kepakaran di raikan di UTM.
"With my passion in film making, I have always used my spare time to make videos but sometimes I felt demotivated and thought that I had no scope in this sector until I found out this mobile video making competition in UTM.
My deepest gratitude to UTM who has made this opportunity for students to show their creativity out of academia.
Now that I have won, my confidence and determination have boosted up! Needless to say how much I learned and enjoyed throughout the process of the competition. If there is students who's interested in video making I would honestly suggest to you to get involved and participate in this competition and expose yourself to the opportunity of learning and winning." katanya.
Jom tonton video yang dihasilkan yang bertemakan "UTM 60th Convocation : Inspiring Moments"