Johor Bahru, 23 February – Referring to the statement by the Health Director-General, Ministry of Health, Datuk Dr Noor Hisham Abdullah which stressed on the need for all herb-based medicines to undergo pre-clinical and clinical tests, the Deputy Director of Universiti Teknologi Malaysia (UTM) Institute of Bioproduct Development (IBD) has issued as statement stating that UTM IBD is fully aware of the national and international regulations of drug development and release comprising materials standardization, GMP processing facilities, ADME-TOX testing, as well as pre-clinical and clinical studies.
It is the general practice of UTM IBD to release research-based products related to the health sector (supplements, cosmetics, etc.). UTM IBD products have always gone through proper and stringent product development procedure as required by the regulating authority, with approval from the IBD Management Team, before finally receiving approval from the Ministry of Health.
IBD has been working closely with the Herbal Development Office, Ministry of Agriculture; Ministry of Rural Development, MARA and various governmental agencies and industries. The scope of collaboration with these agencies has been on product development and human capital development.
The initial press conference which has raised much concern was in fact to highlight the scientific findings and the potential effects of Virgin coconut Oil (VCO) and Polyherbs on the Dengue Virus (DENV-2). The outcomes of the ongoing research indicated the potential of the ingredients to address the dengue virus (in-vitro).
This research has been supported by the Fundamental Research Grant Scheme (FRGS) and Research University Grant (RUG) Scheme from 2012 to the present date. The work carried out by our researchers involves bioactivity studies of the ingredients (Polyherbs extracts) on DENV-2. The outcomes of the research indicated the anti-viral properties of the Polyherbs extracts.
UTM IBD was established in 2009 with a focus on bioproduct research and development for the wellness sector. The key research area was on developing herbal and phytochemical based products. To date, IBD has developed a series of herbal, nutraceutical and cosmeceutical products in compliance with the Ministry of Health guidelines.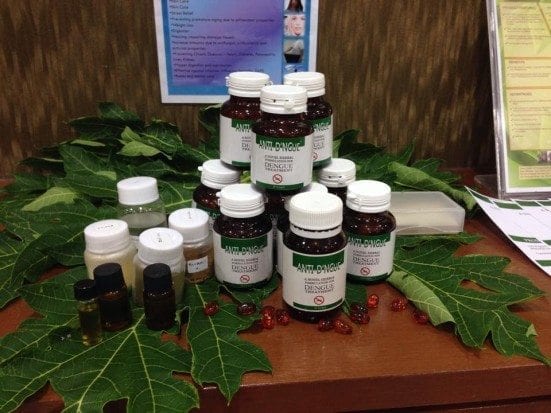 Kenyataan rasmi ini adalah merujuk kepada maklumbalas Yang Berbahagia Datuk Dr Noor Hisham, Ketua Pengarah Kesihatan, Kementerian Kesihatan Malaysia berhubungan dengan sidang media yang diadakan pada 18 Februari 2016 di Institut Pembangunan Bioproduk (IBD), Universiti Teknologi Malaysia (UTM), yang menyarankan bahawa ubatan atau produk berasaskan herba perlu menjalani ujian pra-klinikal serta klinikal.
IBD mengambil maklum serta memahami keperluan mematuhi regulasi dan protokol diperingkat nasional dan antarabangsa dalam memformulasikan dan mengkomersilkan ubat (drug) iaitu prosedur yang melibatkan; (i) kepiawaian bahan/sumber (ii) fasiliti GMP (iii) ujian ADME-TOX (iv) ujian pra-klinikal dan (v) ujian klinikal.
Objektif utama sidang media tersebut adalah untuk mengenengahkan output penyelidikan yang telah dijalankan oleh Dr Harisun Ya'akob dan kumpulan beliau di Institut Pembangunan Bioproduk iaitu; potensi kesan minyak kelapa dara (VCO) dan herba terpilih (polyherbs) terhadap virus denggi (DENV-2) melalui penyelidikan yang dijalankan secara in-vitro. Penemuan ini adalah kesinambungan daripada ujian aktiviti bio (bioactivity studies) yang dijalankan terhadap bahan kajian yang telah menunjukkan kewujudan sifat anti-virus didalam ekstrak herba terpilih (polyherbs) tersebut. Penyelidikan yang bermula sejak tahun 2012 ini disokong oleh dana penyelidikan Fundamental Research Grant Scheme (FRGS) dan Geran Penyelidikan Universiti (GUP), Kementerian Pengajian Tinggi.
IBD ditubuhkan pada tahun 1998 dimana fokus utamanya adalah dalam menjalankan penyelidikan dan pembangunan bioproduk yang menjurus kepada sektor kesejahteraan (wellness sector). Bidang tumpuan utama IBD adalah dalam memformulasi dan membangunkan bioproduk berasaskan penyelidikan herba dan fitokimia. Sehingga kini, IBD telah berpengalaman dalam membangunkan produk nutrasiutikal, kosmesiutikal dan herba mengikut garis panduan yang dikeluarkan oleh Kementerian Kesihatan Malaysia. IBD juga telah menjalankan kerjasama aktif bersama Pejabat Pembangunan Herba, Kementerian Pertanian dan Industri Asas Tani; Kementerian Kemajuan Luar Bandar dan Wilajah (KKLW); Majlis Amanah Rakyat serta beberapa agensi kerajaan lain. Skop kerjasama adalah meliputi, pembangunan bioproduk serta pembangunan modal insan melalui kursus-kursus yang ditawarkan.
Bersandarkan kepada pengalaman ini, pihak pengurusan IBD sentiasa memastikan agar amalan penyelidikan dan pembangunan bioproduk terutamanya yang melibatkan sektor kesihatan telah melalui prosedur dan kawalan ketat berpandukan kepada regulasi yang dikeluarkan Kementerian Kesihatan dan badan berkuasa yang berkaitan.
Professor Dr Mohamad Roji bin Sarmidi
Timbalan Pengarah
Institut Pembangunan Bioproduk
Universiti Teknologi Malaysia