JOHOR BAHRU, 1 March – Assoc. Prof. Dr. Sharidan Shafie from the Faculty of Science, Universiti Teknologi Malaysia (UTM) was the recipient of The Best Award at the Malaysian Technology Expo (MTE) 2014 held at Putra World Trade Center (PWTC), Kuala Lumpur.
His product, 'Algorithm of Boundry Layer Flow in Viscoelastic Fluid' or (BLFV) also earned him a gold medal at the same exhibition.
Other gold medalists were Dr. Dayang Hajah Tiawa Awang Hj. Hamid, Dr. Yeong Che Fai, Ir. Dr. Saiful Amri Mazlan, Assoc. Prof. Dr. Rusmidah Ali and Dr. Chong Cheng Tung.
Among the products which successfully won gold medals were Badminton Agility Training and Testing Device (Dr. Dayang), Compact Rehabilitation Robot (Dr. Yeong), Compact Magnetorheological (MR) Valve (Ir. Dr. Saiful), A Noval Grucat for Co2 Methanation in Natural-Flue Gases (Dr. Rusmidah) and Carbon Nanotubes Production using Rich Flame (Dr. Chong).
The UTM researchers also successfully acquired 9 Silver and 10 bronze medals from 26 products exhibited at Malaysian Technology Expo (MTE) 2014.
The two-day exhibition was launched by the Deputy Minister of Science, Technology and Innovation, Datuk Dr. Abu Bakar Mohamad Diah.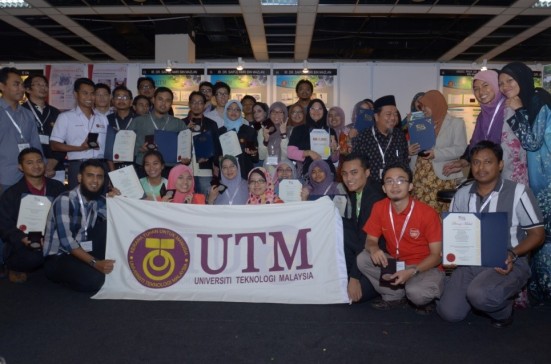 UTM Research Team after winning their respective medals at MTE 2014 competition held at PWTC Kuala Lumpur.