Prepared by: Dr. Noorzana Khamis, Dr. Chuzairy Hanri & Mr. Zulkifli Ahmad
In 2020, Faculty of Social Sciences and Humanities (FSSH), Universiti Teknologi Malaysia (UTM), had organized two Adjunct Professor lectures with Dato' Freida Mohd Pilus. Her first lecture was on 9th September 2020 on how she started the Cempaka School. Meanwhile, her second lecture was held on 28th December 2020 on the topic of Cempaka Story Part Two: Then, Now and Onwards.
In the second series of her lecture, she talked about the recipe of her success and how she survives in her education journey. The lecture was moderated by Assoc. Prof. Dr. Mahani Mokhtar, Director of Educational Foundation and Social Science, School of Education, FSSH.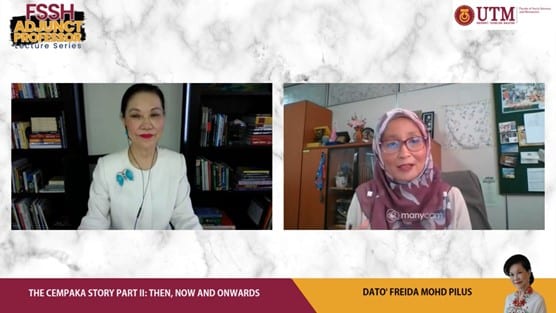 In her lectures, she always stressed that we should do something that we love. Her dauntless spirit as a working mother led her to build the school that operates from 8.00 am to 3.30 pm with the hope that her children can play with their parents after returning home.
Dato' Freida had shared a video on how the other teachers felt about the school. From the video, many teachers have been working at Cempaka for over 20 years, and some even almost 30 years. They called themselves as Cempaka family, who are very devoted to developing Cempaka School. According to Dato' Freida, the close relationship is one of the pillars of Cempaka's strength. All her children, nephews and family members were helping in setting up the school such as painting, cutting the grass, and cooking for the students.
Dato' Freida calls herself the face of Cempaka because the idea of having the school was also from her boys. She started the school from a small bungalow until it becomes three campuses and one of them is set up for Bank Negara in Labuan today. She felt very happy because all of her sons are helping to improvise the Cempaka School.
In developing her school, she worked hard to study about examination and assessment. She did a lot of studies and traveled to learn what other countries did. She also developed boarding school for girls and study about girls (she does not have daughters).
Since 1983, Dato' Freida set up her own national curriculum. She has introduced STEM education to her students by utilizing computers in classrooms and implementing negative marking for mathematic subjects like in medical schools. In 2002, she started her international school and developed a curriculum that embraces national and international cultures. She also has started STEAM education in her schools by emphasizing arts in classrooms.
From the video that she shared, all the alumni agreed that Dato' Freida loves to challenge their minds, gives them valuable words, shapes their minds, increases their level of confidence, and makes them love learning. All the alumni are very happy with the school, teachers, their teams (Harimau, Beruang, Helang) and enjoy doing art.
Most of the Cempaka alumni further their study overseas in many fields such as arts, music, dancing, chef, celebrity, DJ, broadcasting, acting, business, and many more. From the testimonies of her students, we noticed that Dato' Freida has hugely inspired her students, especially during the school's assemblies. They thanked Dato' Freida for becoming their bomb, loving parent, mentor and strong leader.
At the end of the lecture, Dato' Freida had mentioned that discipline, responsible, commitment, learning to be friends, and hardworking are the keys to her success. She encouraged us to look at what we are good at and what we love to do, once we discover our potential, we must do it excellently.
She also asked us to look at the positive side of the COVID-19 challenges. Even everything goes online, she advised us to stay calm and embrace it. Blended learning will become a trend for the future in balancing face-to-face and online teaching. Thus, be prepared with different assessments in the future.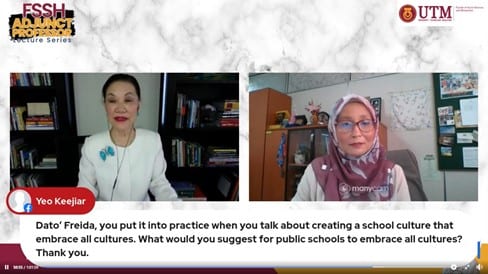 To watch her lecture, please visit https://www.facebook.com/humanities.utm/videos/692711754950281/.
This program is brought to you by SOE Studio Task Force of School of Education, led by Dr. Chuzairy Hanri and assisted by Dr. Noorzana Khamis, Dr. Noor Dayana Abdul Halim, Dr. Nina Diana Nawi, Dr. Adjah Naqkiah Mazlan, and Mr. Zulkifli Ahmad.