Penerbit UTM Press is pleased to announce that one of our eJournals is now indexed by SCOPUS.
MALAYSIAN JOURNAL OF FUNDAMENTAL APPLIED SCIENCES (MJFAS)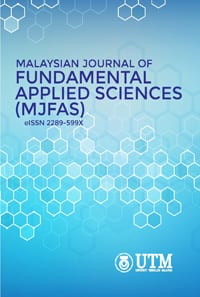 eISSN : 2289-599X
The Malaysian Journal of Fundamental and Applied Sciences (MJFAS) (formerly known as Journal of Fundamental Sciences (2005-2011), ISSN: 1823-626X) is a refereed research journal managed by Ibnu Sina Institute for Scientific and Industrial Research (ISI-SIR), UTM. The aims and scope of the journal encompass research articles, original research reports, reviews, short communications, and scientific commentaries from fundamental principles to practical applications in the broad field of mathematics, physics, chemistry, and biology. All manuscript submissions must be made through the journal's online manuscript system at Online Submissions. For acceptance in MJFAS, a manuscript must be the right fit with the journal's focus and scope.
This journal is indexed by Clarivate Analytics (formerly Thomson Reuters), Google Scholar, and will be accepted for inclusion in Scopus (based on an e-mail from Content Selection & Advisory Board (CSAB) dated 26 October 2020). Starting in the year 2019, MJFAS has been published online with a frequency of six (6) issues per year (February, April, June, August, October, and December). Besides that, special issues of MJFAS will be published non-periodically from time to time.
Since 2016, the Malaysian Journal of Fundamental and Applied Sciences (MJFAS) is an official journal of the Indonesia-Malaysia Research Consortium (I'M Research Consortium). The consortium aims to foster the development of the field through a cross-disciplinary approach and reach consensus in areas of common interest in the fundamental and applied sciences field. By making The Malaysian Journal of Fundamental and Applied Sciences (MJFAS) the I'M Research Consortium's official journal, we hope to provide a forum to bring together society members and publish peer-reviewed consensus documents that emerge from the activities of the consortium. Since then, the paper published from Indonesia has increased. Now, as of July 2020, the articles published by MJFAS from Indonesia and the other countries are 12 and 7%, respectively. Articles published in MJFAS have been cited by researchers from all over the world. Complete citation analysis, as of July 2020, can be viewed through this link: bit.ly/2ZdBAcd