KUALA LUMPUR, 21 Apr. — Universiti Teknologi Malaysia (UTM) through its spin-off company, DF Automation & Robotics Sdn Bhd (DF) has just delivered another food delivery robot to temporary makeshift hospital at the Malaysia Agro Exposition Park (MAEPS) in dealing with Covid-19 named Dol-E (pronounced as Dolly).
This is a continuous effort of the university to assist the front liners after the successful production of Mak Cik Kiah 19 for Hospital Canselor Tuanku Muhriz UKM (HCTM).
Hence, DF has taken up request from MAEPS to provide a similar hospital delivery robot and the whole production process took five days, two days for assembly and testing works in Johor while the rest was for delivery to Kuala Lumpur for mapping, programming, testing and training.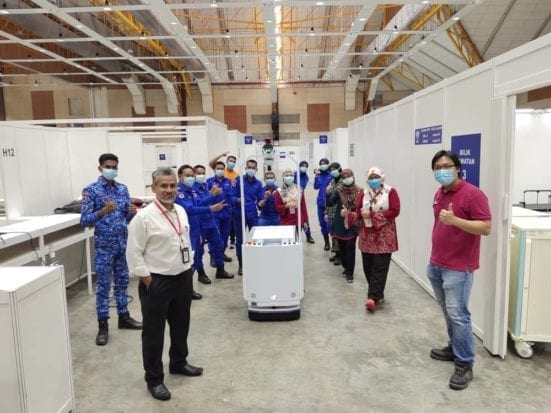 Dol-E is an autonomous delivery robot which helps to deliver foods and drinks from dispatch location to patients with the capability to carry weight up to 300kg and run on batteries. With one full charge, the robot can run between 8-10 hours.
It uses the industrial robot Zalpha from DF which has been customised to be a food delivery robot, equipped with LiDAR sensor, AI and motors, these allow Dol-E to move autonomously.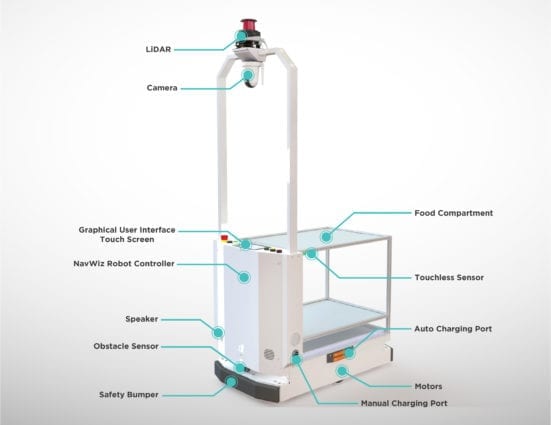 The use of Dol-E robot would assist the dependency of front liners work to do the delivery, hence can reduce the interaction between nurses and patients, simultaneously can decrease the usage of PPE which is currently a global shortage.
In addition, Hall A with the size of 160 meters x 60 meters area with 400 beds which requires nurses to manually push food trolley to serve breakfast, lunch and dinner to maximum 400 patient, the nurses may need to walk more than 3 kilometers just to serve food.
With Dol-E, it can do the food delivery autonomously with ease and with about the same speed as humans. As a robot, Dol-E can operate 24 hours thus it can be used to deliver medicine at odd hours to some particular patients.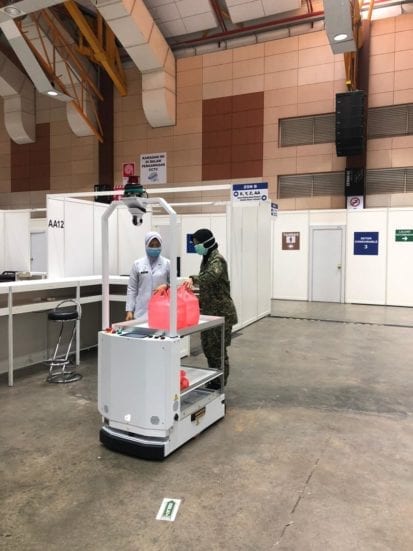 Dol-E also has IoT capability which means DF staff can remotely support or programme the robot when required without even needed to go into the hall so to reduce the risk of infection and reduce the usage of PPE.
According to the Director of DF and also an Associate Professor from UTM, Dr Yeong Che Fai, it is their privilege to provide this solution to MAEPS to assist the front liners in dealing with the deadly Covid-19 virus.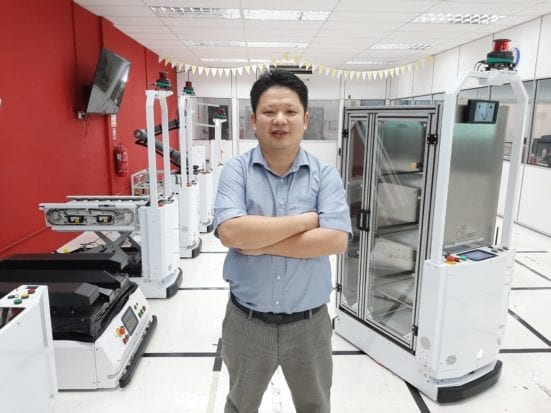 "We are very thankful to the front liners to risk their lives for all of us and we hope this robot could help them in reducing their burden and risk.
Besides food delivery robots, DF is working on other hospital applications to deal with Covid-19 which are disinfection robots using spray, disinfection robots using UV and teleoperation robots," he added.
Previously, MAEPS has been transformed to a gigantic temporary makeshift hospital that can accommodate a maximum of 604 patients, which Hall A hosts 400 beds while Hall B hosts 204 beds, set up to accept low risk patients with mild symptoms in order to complement the 40 gazetted hospitals to treat Covid-19.
The Director of Low Risk Quarantine & Treatment Centre, MAEPS, Dr Md Anuar bin Abd Samad appreciates the collaboration and contribution team from DF and UTM to supply Dol-E, a hospital delivery robot to MAEPS.
MAEPS requires a lot of human resources to provide the need of medical care including food serving, thus with Dol-E robot, it would definitely help minimizing unnecessary contact between health care workers and patients without compromising the provision of high quality medical care and thus reducing the usage of PPE.
UTM Vice-Chancellor, Prof Datuk Ir Dr Wahid bin Omar said this is another good example of close collaboration between university and industry in solving the nation's crisis.
"As a university that is blessed with multiple expertise, we believe it is our responsibility to help the government, especially the front liners who are struggling to serve the people during these trying times for us all.
Thus, through this collaboration we hope that together, we can break the Covid-19 chain soon," he added.
This work is made possible with the collaboration between the Ministry of Science, Technology and Innovation (MOSTI), The Ministry of International Trade and Industry (MITI), Ministry of Health Malaysia (MOH), Malaysian Technology Development Corporation (MTDC), Universiti Teknologi Malaysia (UTM), Malaysia Agro Exposition Park Serdang (MAEPS) and DF Automation & Robotics Sdn Bhd (DF).
More about DF Automation & Robotics Sdn Bhd (DF) :
DF is a Malaysian local company that designs and manufactures autonomous mobile robots (AMR) for industries.
With the award winning robots equipped with Artificial Intelligence developed in-house and capable of moving and performing tasks autonomously, these robots' model can carry a load from 100kg to 1 tonne.
They have exported to several countries including Singapore, India, Mexico and Europe.