Johor Bahru – Quantity Surveying programme of the Faculty of Built Environment and Surveying (FBES), Universiti Teknologi Malaysia (UTM), received a benchmarking visit from the staff of the School of Engineering and Built Environment, SEGi University on 18th July 2019. The visitors, led by Ts Sr Nadzirah Hj. Zainordin (Head of Undergraduate Programme at SEGi), wished to understand more about the undergraduate programmes offered by FBES, in particular, the Bachelor of Quantity Surveying programme, so that the well-established undergraduate programme at UTM could serve as a benchmark for SEGi recently established Bachelor of Quantity Surveying programme. Meanwhile, the delegates from UCTS briefed on their university's aspiration and undergraduate programmes and were looking forward to establish close ties with UTM in future academic-related matters.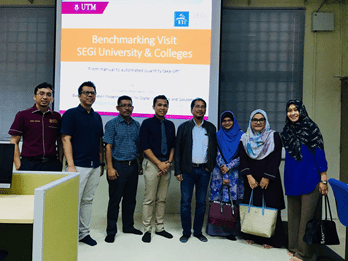 During the half-day visit, the delegates from SEGi were informed of how the Bachelor of Quantity Surveying programme at UTM was run to fulfill the criteria set out by the Board of Quantity Surveying Malaysia. They were also briefed on recent changes to the programme to adopt the concept of Industry 4.0 in addressing the latest industrial needs. They also had a chance to visit the QS Computer Laboratory. They were also briefed on the latest development and application of automated quantity take-off in fulfilling students' classroom and project needs in addition to research and development activities. Lots of information exchange relevant to academic matters took place during the visit.
The Director of Quantity Surveying programme (UTM) Assoc. Prof. Sr Dr. Sarajul Fikri Mohamed, wished to extend his gratitude to the delegates from SEGi and the staff from UTM for the fruitful visit.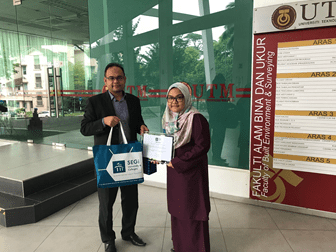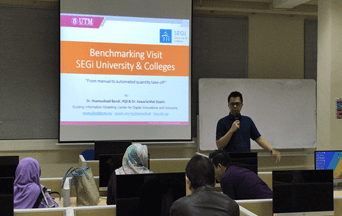 Prepared by Sr Dr. Muzani Mustapa (Programme Coordinator – Quantity Surveying)