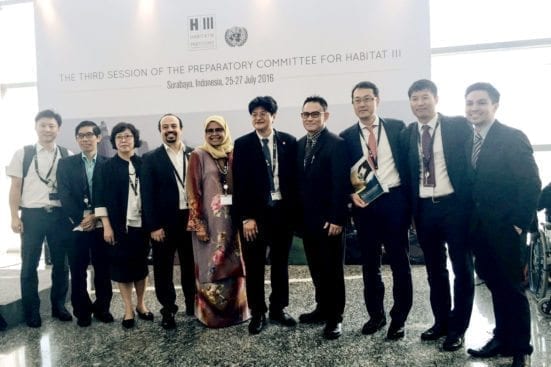 Participants of HabitatIII
SURABAYA, 28 July 2016 – HabitatIII PrepCom3 side event "Advancing Sustainability of Asian Cities and Regions" of ICLEI and Universiti Teknologi Malaysia (UTM), together with the Cities Development Initiative For Asia (CDIA), Communitas Coalition, Iskandar Malaysia Regional Authority, the Ministry of Public Works and Highways of Malaysia, and the Institute for Global Environmental Strategies (IGES)-Japan, was successfully held on July 27 in Surabaya, Indonesia.
The event brought together government leaders, experts, academics, and global agencies for exchanges on potential solutions and approaches to a wide range of urban challenges in Asia. The diversity of experiences in Asia was reflected in the composition of the speakers and their topics being multinational (Malaysia, South Korea, Japan, Indonesia, India), multilevel (local, regional, national governments), and multistakeholder (governments at all levels, international agencies, academe, and finance partners).
Speakers included Mayor Maimunah Shariff, Municipal Council Of Seberang Perai, Malaysia and ICLEI Global Executive Committee; Mr. Junghyun Kim, Global Urban Partnership Division of Seoul Metropolitan Government; Ms Claudia Hermes, CDIA; Dr Ho Chin Siong, UTM; Mr Boyd Dionysius Joeman, Iskandar Malaysia Regional Authority; Dr Junichi Fujino, IGES-Japan; Mr Edward Abdurrahman, Ministry of Public Works and Public Housing of Indonesia; and Mr Yunus Arikan, ICLEI World Secretariat. Mr Emani Kumar of ICLEI South Asia and ICLEI World Secretariat moderated the event.
Mr. Datuk HJ. Mohammad Bin Mentek, Secretary-General of Malaysian Ministry of Urban Well-being, Housing and Local Government and Head of Malaysian Delegation at HabitatIII PrepCom3 in Surabaya also delivered a warm and encouraging closing remark, congratulating all partners and inviting an active collaboration in the preparation of World Urban Forum 9 in Kuala Lumpur, Malaysia in February 2018.